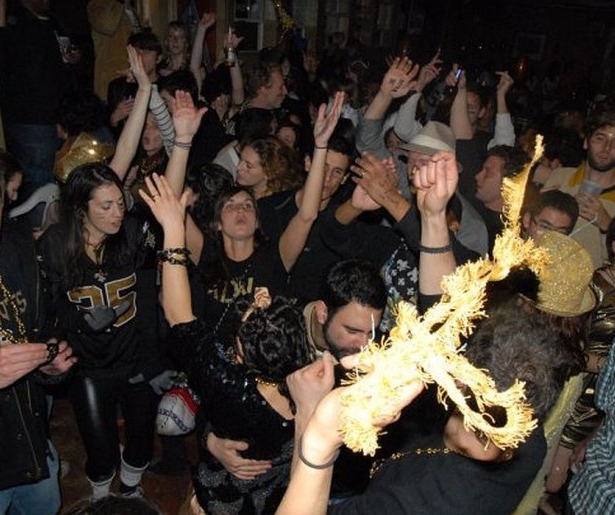 SHARE
The Saints play their first home game of the season on Sep 21 against the Vikings, and hopefully my heart won't get ripped through its teeth again, although I am cautious. Still, the Saints have a triple digit point differential in their favor in the Dome, and that gives me hope. I can totally scientifically prove (or not) that said differential is due at least in part to the passion of the home crowd. Ant to join that crowd? Then you need to tailgate some. Here's how to do it in New Orleans
You don't have to tailgate
Well, this has got to be the most contradictory advice ever given on a 'How to tailgate' guide. But it's the truth. This is New Orleans. Drinks can be consumed on the street. And in a sense, this invalidates the need for the tailgate, which has traditionally come around because there is a need for a large pre-game place dedicated to food and alcohol consumption. New Orleans, by dint of its lax drinking laws, doesn't really require that dedicated space. If you want to have a drink in your hand while you listen to some awesome street musicians, you can totally do that and still get to the Superdome pleasantly sloshed. On the other hand, if you want a more traditional tailgating experience …
Head to Champions Square
There are some who insist Champions Square isn't a proper tailgating location because it isn't a parking lot. Well, excuse us for not wanting to suck down the fumes of someone's idling F-150 while waiting for the national anthem. The Square is a good spot for getting the party started if you're into big stadium style venues, and seeing as you're going to an NFL game, I'm assuming you're into big, stadium style arenas. It's also within walking distance of the Quarter, and stumbling distance of the CBD, so there's that.
Fly, barfly, fly
If you're not going to watch the game at the Superdome, here's our list of the best bars in the city for NFL game day. Let me add to this list: the Tap Room at Nola Brewing. The beer is wonderful, tasty and cheap, they're pet friendly and it's non-smoking. Hands down, one of the best TV sports watching venues in town.
Watch the game in New Orleans!
On Sunday, the city will be awash in black and gold and fans from across the Who Dat nation, some of whom will rush to leave New Orleans as soon as the final whistle blows. It's a sad truth: some Saints fans have a deep aversion to the city the Saints call home. For example, I'm expecting the normally vacant half of the shotgun double next to my house to be occupied by my semi-regular neighbors this weekend. I say semi-regular because this family only come to New Orleans for Saints home games. I like them, and we get along, but we only interact around eight times a year. If you think it's crazy that someone can love the Saints enough to rent a house out, unoccupied, all year except for a few home games, while simultaneously avoiding, for the other eleven months, the same team's namesake city, well, you're right. That's crazy. Look, you're already driving into New Orleans if you're coming from out of town. Make the best of it and enjoy everything this city has to offer. Our website (ahem) is a good place to start.
Be a Who Dat. But be a playful one
It's always good to give the opposing team and their fans a bit of grief. But New Orleanians, to their credit, don't go overboard. While there are some mouth breathing exceptions to this rule who should be banned from the Superdome, our fans don't pick fights or get too mean spirited. When I think of how to troll other fans like a true Who Dat, I always come back to this guy.
Show your pride, get up in their grill, and leave all parties with a smile at the end of the day. Who Dat.
Image courtesy of Morgan Sasser.