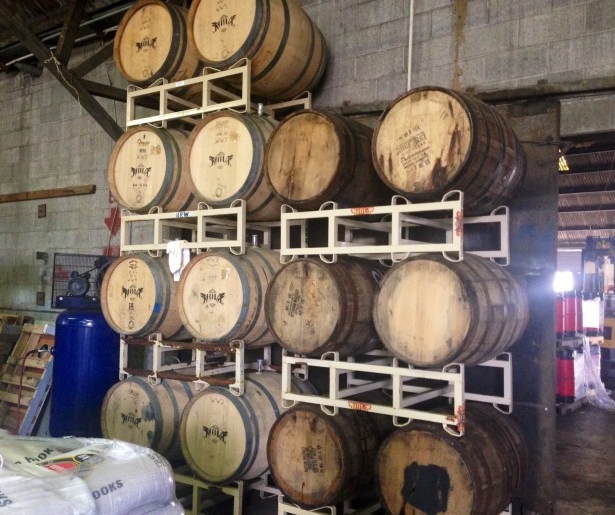 SHARE
New Orleans has a habit of inventing a fest for everything (see also: Creole Tomato Fest, Midsummer Mardi Gras), and in that vein, the upcoming week celebrates something we can all can get behind: beer. During Louisiana Craft Brewer's Week, restaurants and bars around town will toast a rapidly-growing community of small breweries around the state.
"A lot of people aren't aware that there are five or six breweries in Louisiana right now," brewer Derek Lintern of NOLA Brewing, now five years old, says. "In Louisiana, we've been behind the times as far as the East coast or the West coast breweries. Now that we're starting to catch up, we want to start a week to showcase what Louisiana has to offer."
The laid-back, surfer-haired brewer has prepared a showcase of several recent experiments, including barrel-aged beers (using bourbon or wine barrels), beers with wild yeast, and a style of beer called sour. He says sour beers will have a big presence on the shelves at your local craft beer shop in the future.
"Sour beers work really well here; they're kind of like lemonade on the porch" he says. "It's one of my favorite ones to give out at beer festivals, because everyone makes the same face when they sip it; it's always a shock."
The young Louisiana Craft Brewer's Guild put the statewide event together last year to showcase their products and their contribution to the local economy. With events in Shreveport and Baton Rouge, the celebration includes new breweries like the Tin Roof brewing company alongside old hands like Abita.
In New Orleans, the week's highlights include a Wednesday night ticketed dinner at Irish House, including beer flights and a souvenir glass. On Thursday, longtime craft beer haven Avenue Pub will introduce the NOLA brewery's sour and funky collection.
Abita will brighten up Friday afternoon by tapping an exclusive barrel of their SOS Pilsner mixed with peach and pumpkin at Bourbon House, with a portion of proceeds going to the Gulf Coast Restoration Association. In the NOLA Brewing taproom, "Poor Decisions Friday" pulls their usual beers from the taps and replaces them with 16 experimental brews.
Louisiana Craft Brewer's Week culminates with "New Orleans on Tap," an SPCA fundraiser at City Park. Tickets to the afternoon event are available in a variety of price tiers, either in advance or at the gate.
Lintern, who started out as a teenage homebrewer, is pleased to see the state sharing his passion for beers beyond domestic standbys like Budweiser and Coors. "I hope [the craft beer movement] continues to grow…get out there and try something new, see what the breweries are trying to do to push the envelope," he says.
Image courtesy of Facebook. Event details here.