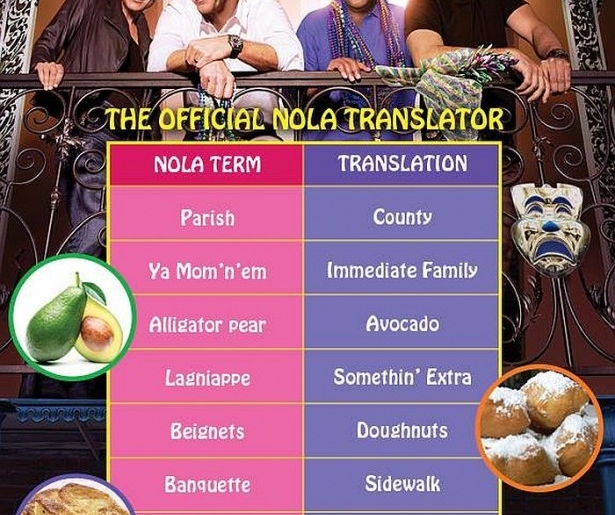 SHARE
We've got a little column here at New Orleans & me called Shreveorleans. Its purpose? Highlighting the many cinematic sins, cliches and liberties taken by movies and television shows filmed in Louisiana. The latest installment? The series premier of NCIS: New Orleans. This show is desperately trying to be local; you can tell by their 'New Orleans dictionary' picture above. The problem is, for every little thing they get right, they miss the mark elsewhere by a mile. Example: why are the cast members explaining New Orleans lingo, in an ostensible stab at localism, while also getting ready to toss beads from a balcony, which is the most tourist-y activity possible?
More examples follow. Spoilers a'coming; you've been warned.
Show opens with guys offloading shrimp.
Because WE IN LOUISIANA, CHER! Oh, alright. I'll let it slide. I get it, NCIS wants to establish some sense of place. But those are the cleanest boys I've ever seen work a shrimp boat. Also, Louisiana is known as the Sportsman's Paradise because of our abundant fish and wildlife, not because hot blondes in cut offs with perfect hair and makeup hang out on working docks.
Credits: 'Boom Boom Boom' plays, Bourbon St, fleur de lis, etc. Why not.
Also, lead actor Scott Bakula will apparently occupy a fixed position in time and space during this show. Disappointing.
'I sure love living in the Big Apple. Don't you, fellow New Yorker?
Opening scene: Scott Bakula, head of the, um, NCIS police and New Orleans native, asks new recruit and Midwestern transplant Zoe McLellan about night life in "the Crescent City." Have you ever said "the Crescent City" out loud? If so, I'd like to buy the unicorn you ride to work.
McLellan's character says she lives in Broadmoor. BONUS POINTS
Hey, that's a real neighborhood! Nice job, NCIS. Usually, when someone sets a show in New Orleans, all of the characters seem to live either on Bourbon Street or above Jackson Square. McLellan even says she couldn't sleep because nearby college kids were setting off fireworks, and that is is totally a thing! But then Scott Bakula says, 'Those weren't fireworks," implying that they were gunshots. This would likely be the case in some New Orleans neighborhoods, but not Broadmoor. Not that crime doesn't happen there; I'm just saying there's a good chance the noise she heard was some Tulane kids acting the fool. Point deducted.
A severed leg is found in a pile of shrimp.
For the record, not all evidence in Louisiana criminal investigations is found in shrimp piles. Some is found in crawfish piles. Also, what possibly left the leg there? One character opines it was an alligator, of course. Because if it wasn't an alligator, it was probably Justin Wilson.
"Just couldn't stay away from my gumbo, could you?" says Scott Bakula.
This is actually how we always greet old acquaintances in Louisiana.
Musician, and relation to the murder victim, is introduced.
"Only two things I've ever loved in this life. Calvin [the victim], and jazz." That's all we New Orleanians love, America. Our children. AND JAZZ.
Scott Bakula says these words: "Take Brody. Learn things."
This has nothing to do with Louisiana; it's just bad dialogue.
At around the 13:00 minute mark, the show breaks down some neighborhoods.
McLellan starts by naming addresses. '2725 Prytania?'
"That's Uptown. How do you feel about $600 strollers and organic everything?" Alright NCIS, nailed that one in terms of cliches, but the address is actually in the Garden District.
'3105 Royal?'
Bakula answers. " Bywater. Neck beards, thick rimmed glasses, fixed gear bikes." For what it's worth, 'Neck beard' and 'hipster' are two different things – the former is an anti-social geek who lives in a basement – but yeah. We get it, NCIS. Everyone in the Bywater just got back from the craft beer festival.
Actor Martin Bats Bradford nails a black New Orleans accent.
That's rare for a show set here; the dialect is tough to properly replicate. Bradord is up to the task – unsurprising, as he's local. Good job, Martin.
A drive-by scene hits, tragically, a little close to home.
But earlier, we're told the rival gangs involved in the violence occupy adjacent neighborhoods on either side of Galvez St, on the East Bank. Then a news announcer says the shooting was on the West Bank. For a show that up until now has been working hard to get geographic details basically right, this seems like a dumb oversight.
At minute 25:00, Q from the James Bond franchise makes an appearance.
Well, not really, but it's a nerdy British scientist, so yeah. He says, 'New Or-lee-ahns' a lot. I get that he's supposed to be obviously foreign, but I don't think anyone outside of the British Royal Family pronounces it that way.
The obligatory nerdy scientist guy wears a Dirty Coast t-shirt.
Nice.
Matt Lucas plays an Alabama fan with a 'Roll Tide' tattoo.
I appreciate this. They could have gone the easy route and made him an LSU alum, but believe it or not, the graduates of other SEC schools inhabit Orleans Parish.
McLellan: "All I need is a beignet, and some lemonade."
Eh? I get that she's supposed to be new in town, but this combination is as out of left field as the coffee and crawfish from Homefront.
Scott Bakula tells a corrupt city council member that New Orleans is "my town."
He emphasizes the point by whistling "When the Saints Go Marching In." C'mon.
Final ShreveOrleans rating: One pile of shrimp at a crime scene.
Image courtesy of Facebook.