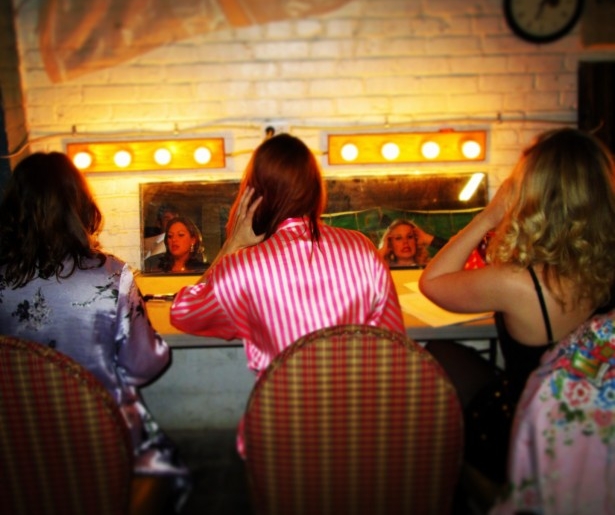 SHARE
Every month, Literary Manager Jessica Podewell has to come up with one word. This is her favorite part of her job at Southern Rep. She mulls it over, and then when she feels like she has the right one, she sends an email to a group of forty writers, they look at that one word – Venus or secrets or babies – and they weave a story around that word. All in the form of a ten minute play.
That such a large number of playwrights in New Orleans are working separately and then coming together to create a fractal vision of one word is worthy of note alone. That Southern Rep choses six of these plays, throws them on their feet in a rapid-fire progression from conception to performance with one week to rewrite, one week with a director, one night to rehearse, and two hours to slam through a tech rehearsal, is, as Jessica Podewell termed it, a bit like Kamkazi theater (Hopefully with a lower risk of self-immolation). Six playwrights, six plays, one night: it's easy to see how 6X6 got its name.
When I asked Artistic Director Aimee Hayes why Southern Rep, which has made a name for itself in the region with high quality and polished productions of new plays on its main stage, decided to branch out into this scrappier, more rough and ready form, she spoke a lot about community: the writing community, the theater community, the New Orleans community, and engaging these communities with each other.
Southern Rep knew there were many playwrights living and writing in New Orleans, but many of these writers had never had their work mounted in the city and were consequently hidden from the local theater community. Many New Orleaneans had never been to a staged reading and had only foggy notions of what one entailed. Playwrights didn't necessarily understand what went into developing a new play from the production side, interacting with actors, directors, dramaturges, and audiences. Of all of these interactions, Hayes stresses the importance of a playwright hearing their work with an audience, seeing their reaction, discovering where the laughs are if it's a comedy or "if it's a drama, can they hold an audience, hold them still."
6X6 has tested the mettle of many playwrights in the three years it has been on stage. For those most time-tested, the eleven original 6X6 writers (Pat Bourgeois, Jon Broder, Kerry Cahill, Madison Curry, Lucy Faust, Jared Gore, Michael Harkins, Brian Sands, Michael Aaron Santos, Lisa Shattuck, and Paul Werner), a new series of longer, one-act plays called 3X3 has been developed to take this new play project to the next level.
Instead of one night of six short plays, the audience instead has their pick of two nights of three fully mounted plays that have been developed and workshopped over months with the other 3X3 writers and Southern Rep producers and a two week rehearsal period. If 6X6 excels in madcap energy, actors with scripts in hand clueing in the audience that what they are about to see is fresh-pressed from the imagination, 3X3 does something even more challenging by fully producing 3 new plays in two weeks, complete with sets, costumes, and lighting and thoughtfully crafted performances to realize each play's potential.
For you writers out there who'd like to join in the 6X6 mania, send in a sample 10 minute play to literary@southernrep.com and if approved, you'll be on the receiving end of the next round of emails with a carefully chosen word by Jessica Podewell.
For future 6X6 and 3X3 performances, check out Southern Rep's website for more information about this new play series as well as their other new play series like Debauchery (New Orleans' only live, monthly soap opera) and Plays and Pints (you guessed it, drinking is involved in this new play series).
Upcoming performances:
6X6: (6 ten minute plays by 6 playwrights), May 29th 7:30 pm
3X3 (3 one acts by 3 playwrights) June 17th & 18th 7:30
All performances of this series are $10 and held at MidCity Theater, 3540 Toulouse St, New Orleans 70119, 504-488-1460.
Image from Brian Sand's playlet Secrets, the Musical. From left to right: Kate Kuen, Desirée Bacala and Rebecca Elizabeth Hollingsworth