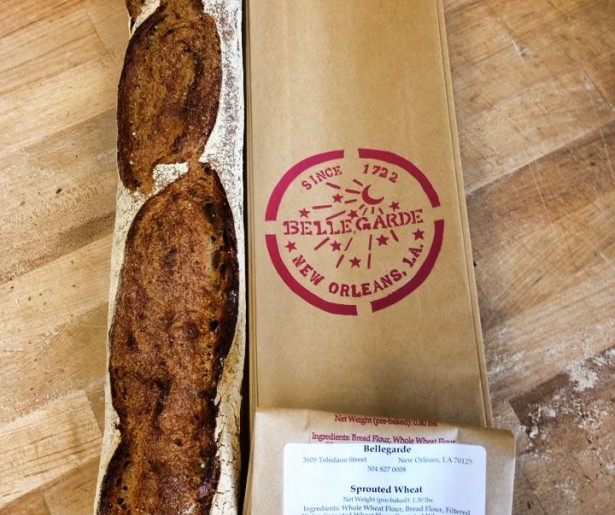 SHARE
In Yeah You Right, we document the great moments that make New Orleans, well, New Orleans. In today's edition? Oh, just the staff of life.
Last night, at a dinner party Uptown, I had the best bread of my life.
Rewind: travel media has a bad habit of engaging in a lot of hyperbole, and I try to avoid this writing sin. When too many people say, "Such and such was the BEST EVER" about too many things, the appellation and superlative loses all meaning.
So I need to emphasize that I am not screwing around and throwing out 'Upworthy' style over the top headline writing here. After years of traveling and working in Europe, Africa and Asia, and eating baked goods from several former French colonies that all know how to turn a loaf around – this was, hands down, the best bread of my life.
And it was baked here, in New Orleans, at Bellegarde Bakery.
How can I describe the baguette I ate without falling victim to superfluous purple adjectives? The crust, upon being picked up, seems solid like drywall, but press a little with your thumb – or teeth – and it gives way like soft pottery. Then you come unto an interior that's as light and ethereal as 10,000 thread count cotton sheets – a white cloud, if you will, of flour and water spun into gastronomic goodness.
This, friends, was very, very good bread. With a dab of butter, it became, by far, my favorite portion of a meal that included imported cheese, fresh prosciutto and homemade white beans and Gulf shrimp. How many times does the dinner roll become the best part of dinner?
In the classic "I've got good news and bad news" format, I've already broken the rules and given you the good news first, so here's the bad news: there is, as of now, no storefront bakery for Bellegarde (which, incidentally, was named for the first commercial bakery in New Orleans, opened in 1722).
The mitigating element of this observation is Bellegarde's bread is sold and served throughout town at a long list of restaurants and grocery stores. How long is said list? Find it here. And then find some Bellegarde baked goods, as soon as you can.
Image courtesy of Facebook.