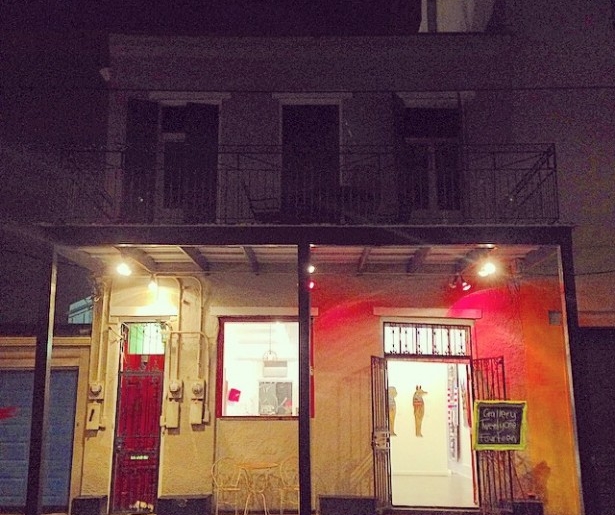 SHARE
"Gradoux" is a Cajun French word meaning "substance of mysterious origin." It's a fitting name for Jennifer Fairclough's gallery on Decatur Street, which is situated in an area that is surprisingly quiet, despite its location just steps away from Frenchmen Street, near Elysian Fields Avenue in the Marigny.
The gallery popped up in January this year without much fanfare, but the minimalist, intimate space, which currently hosts a mixed-media sculpture installation by Thor Carlson, offers a thoughtful respite from the bustling nearby hotspots – and is, hopes Fairclough, on its way to becoming one itself.
Another refreshing component: The art world can be highly competitive, but Fairclough and her neighbors, Scott Edwards of the eponymous photography gallery and studio, and Keristien Rackham, owner of Gallery Twenty-One Fourteen, share a vision of turning their respective establishments into a cultural, synergistic hotbed for aspiring and established artists and patrons.
Curtis Knapp, an award-winning photographer, graphic designer and illustrator whose portfolio includes portraits of Madonna, REM and David Byrne, manages and curates exhibits at Gradoux and spearheads many of its collaborations. His experience is vital to the developing scene.
"We want to bring some life to this area, beyond just the bars on Frenchmen Street. The galleries are bringing art and more culture in this direction," he says, giving Edwards credit for being the "first person to break the ice around here," three years ago.
Fairclough quit her job working in a retail store on Magazine Street in order to pursue her longtime dream of opening Gradoux. Rackham's gallery, which is managed by photographer Bruce Drinnon, opened the most recently of the bunch in July. "I think these galleries are grouping together nicely," says Knapp. "Right now we have bars and music [in the area] which is good, but to also have art here broadens the audience, and it broadens their selection."
Each gallery in the neighborhood offers its own slice of life. "We don't do the same art work, even though we have some of the same media of artists," says Drinnon. "There's no reason we shouldn't promote each other."
Edwards remains photography-based; his gallery hosts both local and regional fine art photographers. "As of now, I have about 30 different artists that I've shown, and that number grows every few months," he says. He curates five shows a year; on Oct. 11 he will showcase works by Florida-based still-life photographer, Anna Tomczak. "She does these incredible one-of-a-kind Polaroid dye transfer pieces onto watercolor paper," he says. "It's really beautiful stuff." Tomczac will also be in town hosting a workshop on Nov. 7-9.
At Gradoux, Faircloug says, "The majority of our artists are local, or they have strong ties to New Orleans. I would describe the art we have here as elegant but provocative. Sophisticated without being pretentious. Personally I tend to favor three-dimensional things that have beautiful forms but are also functional. However, we have had all mediums: photography, screen prints, ceramics, paintings and cast-iron sculpture, just to name a few."
Across the street at Gallery Twenty-One Fourteen, one can find works by eight local mixed-media artists, including Ti-Rock Moore, a mixed-media specialist whose work is provoking and haunting, exposing painful racial and political issues. Her work includes a life-sized coffin covered in razor blades. Hanging above the coffin is another piece: a cross made out of a battered American flag.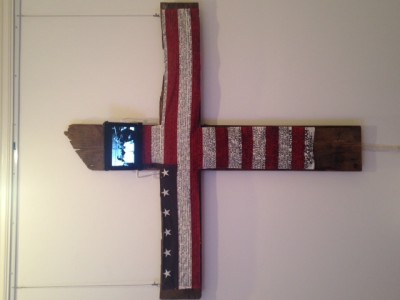 Scribbled across the flag/cross in Sharpie are racial epithets and words pertaining to the Civil Rights movement and Jim Crow; the piece is topped off with a mounted iPad that repeatedly plays 11 seconds of footage of former President Bush telling former FEMA director, "You're doing a heckuva job, Brownie." Around the corner is a wall of psychedelic black-and-white illustrations by Senan O'Connor.
"There are so many good artists in this city that are undiscovered or are just starting their careers," explains Drinnon. "And we want to be a springboard for that career, so we're trying to showcase the different kind of contemporary local art."
Continues Fairclough: "More galleries is a good thing, because rather than competing with each other, we're building a destination to buy art."
While Edwards considers the area to be in some ways an extension of the St. Claude Corridor (he frequently hosts events on the Second Saturdays of each month), the group is also set on making their area a destination in itself. Their most recent high-traffic night was Filthy Linen Night in late August, an event started by Kate Gaar of the Frenchmen Art Market in 2013 – a playful nod toward Julia Street's "White Linen Night" followed by Royal Street's "Dirty Linen Night." (Each event is held on consecutive Saturdays in August.)
On Oct. 2, the owners met to form the Marigny Arts District Association, which they say will help to continue and unify their mission of becoming an arts destination. Other members include the nearby Frenchmen Art Market, Hyph3n and Downtown Art Gallery.
Among other projects, the newly formed group is preparing for Prospect.3, the international contemporary art biennial that starts on Oct. 25.
Gradoux Gallery
2117 Decatur St.
gradouxgallery.com
Gallery Twenty-One Fourteen
2114 Decatur St.
www.gallerytwentyonefourteen.com
Scott Edwards Photography
2109 Decatur St.
scottedwardsgallery.com
Image of Gallery Twenty-One Fourteen courtesy of Facebook. Image of Ti-Rock Moore's art courtesy of Sarah Ravits. Sarah is a managing editor at Renaissance Publishing.