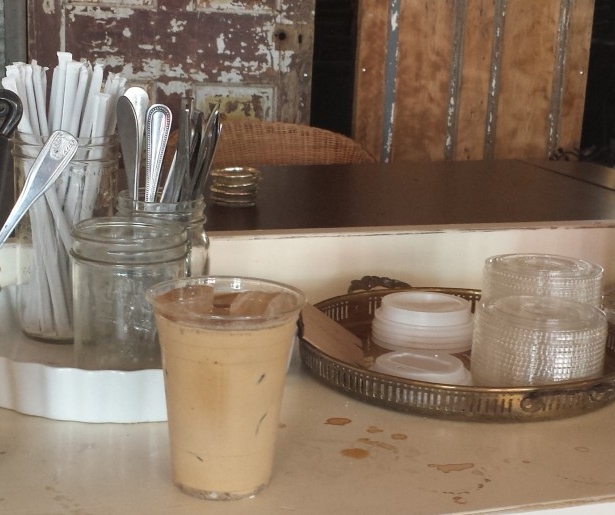 SHARE
I was on Oretha Castle Haley earlier today, for both business and pleasure; both objectives are easy to approach given the radical growth in this corridor. Increasingly, Central City is reclaiming its cachet as a commercial hub for the city, a spot for leisure, food and culture, and a place for immersive learning about the region.
Incidentally, O.C. Haley is a great place to grab a cup of Joe.
Pictured above: the horchata latte at Church Alley Coffee Bar, which attached to Zeitgeist. When I saw this on the menu I knew I had to order it, even as I thought, "So, this is both a totally unique thing, and also I can't believe this has never been a thing before. Horchata and latte. The two go together like, well, espresso and steamed milk."
Before I go on, a small explainer: horchata is a drink generally made from milk and ground 'something' – almonds, sesame seeds, rice, etc – along with cinnamon, vanilla, sugar and other spices. There are countess variations of the drink, which originated in Spain (perhaps by way of North Africa) and is imbibed across the Spanish-speaking world.
Basically, it's candy in a glass, but a kind of milky, deep, rich candy that doesn't overwhelm with a saccharine tidal wave of too sweet. And that's the kind of drink that should absolutely get mixed up with coffee, especially when I am a little tired on O.C. Haley and in need of a yummy caffeine fix.
That's what this is: a tasty caffeine fix, and one that is, as far as I know, unique in this city. The flavor skews slightly too much towards the latte side of the see-saw; I'd prefer a little more of the bright spiciness of the horchata component. That said, this tall cool glass of lovely was on point. I scarfed my drink and found myself pleasantly caffeine buzzed for the better part of the morning and early afternoon. Salud, Church Alley.