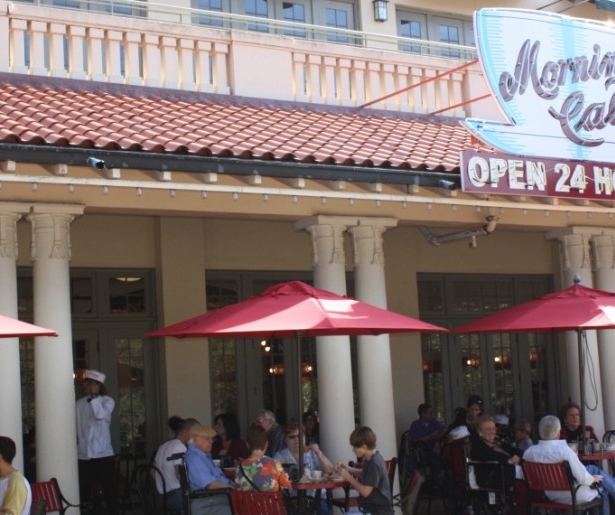 SHARE
Cafe au lait and beignets top the bucket list for a lot of visitors to New Orleans. These tourists tend to be surprised to learn you can't just order a coffee and fried donut topped with powdered sugar on every street corner. Indeed; coffee and beignets is something of a niche market in New Orleans.
The weather is getting autumnal – well, as autumnal as New Orleans gets (i.e. I'm still comfortably wearing a t-shirt and shorts) – but whatever. The mugginess is starting to clear out, to the extent mugginess can clear out in this city, and if our weather has the barest hint of 'crisp,' it's like a rallying call for coffee and bed goods, preferably consumed outdoors.
I should elaborate on that last statement: coffee and beignets really needs to be consumed al fresco. I can't rightfully explain why, although I'm willing to wager the reason why is this city has such an impressive skin, and tempera weather plus unique architecture plus baked goods, a caffeine shot and powdered sugar is a pretty heady combination.
So where to get that beignet in the sun? Of, course everyone knows about Cafe du Monde. And that's the problem: everyone knows about Cafe du Monde. It's often painfully crowded , and the entire ordering and eating process feels like being forced through a sugar dusted conveyor belt. Throw in the loud ambient volume of Decatur St at pretty much any time of the day, and this is hardly the vision of a civilized European street side cafe everyone seems to want to associate with du Monde.
Cafe Beignet – at least, the Royal St location – is a bit better (the Bourbon St locale is…well, it's on Bourbon St. Hardly a quiet pastry in the shade). The Royal St location, on the other hand, is about 100 times more romantic despite being a mere block away; here, with the sounds of street musicians in your ears, and sparrows twitting in the overhanging trees, you really could be transported to some Platonic ideal of street side dining. My issue here is with the beignets themselves, which I personally to be a little too soft and chewy. With that said, some people love and swear by them, so by all means, visit Cafe Beignet and judge for yourself.
With all of that said, my winner, when it comes to the perfect New Orleans outdoor beignet and cafe au lait, is Morning Call in City Park (pictured above). Let's be clear: this spot isn't some clandestine hideaway. Buses and vans full of folks on group tours pull up on a pretty regular basis.
But so what? It may be busy, but it's rarely Cafe du Monde frenetic. City Park, obviously, is a gorgeous setting, and large enough to diffuse the buzz of the tour groups. And the coffee and beignets are clutch. The latter really are just right: fried but not too oily, soft without being too yielding. And the powdered sugar comes in brown paper bags, so you can apply as much as you want to your pastry and then feel like an extra in Scarface afterwards.
Image courtesy of City Park.