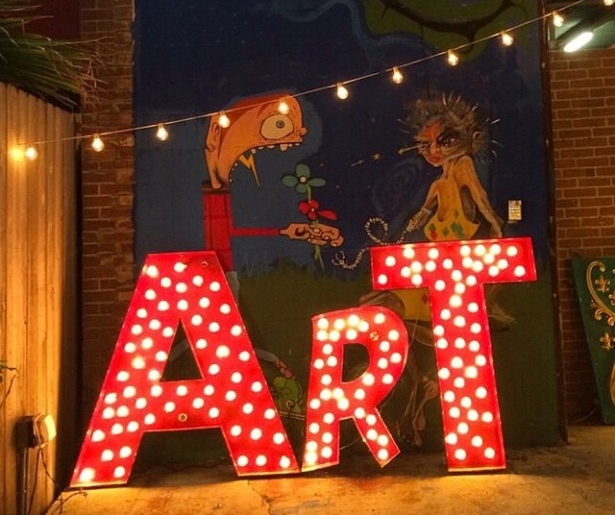 SHARE
If you go out a lot in New Orleans, you probably recognize a lot of the same faces on the weekend. Whether you see the same movers and shakers on the dance floor at Hi-Ho for DJ Soul Sister every Saturday, or the same crowd of cinephiles at Indywood or Shotgun Cinema films screenings, you can bet that at some point during a night out you'll do a double take and ask yourself, "Where have I seen that person before?"
The founders of This Is NOLA, a new monthly event series premiering Friday, Oct. 17th at the Joy Theater, want to introduce you to those people that you always see but haven't met yet. Their goal is to produce a multi-faceted arts show that features the best of New Orleans music, film, food, drinks, fashion, visual art, and more.
"That's the spirit of This Is NOLA," said event founder and Winter Circle Productions co-founder Reeves Price. "To get people from various artistic communities rubbing shoulders with one another."
Price and Winter Circle Productions have plenty of experience producing music-centric events in New Orleans, including the Buku Music and Art Project the past few springs, but for This Is NOLA, the idea is to throw a monthly arts celebration that expands beyond any single artistic discipline.
At the free, inaugural This is NOLA event, Price and company have put together an eclectic line-up featuring a performance from "Hurray for the Riff Raff": http://www.neworleans.me/journal/detail/517/Check-out-Hurray-for-the-Riff-Raff-on-Conan, the celebrated New Orleans folk group led by Alynda Lee Segara, and a screening of local filmmaker Garrett Bradley's feature film, Below Dreams, which debuted at Tribeca this past spring.
Both artists create work that embodies the spirit of New Orleans, particularly the modern landscape of the city, where different generations and cultures converge on a daily basis. Hurray for the Riff Raff's latest album, 2014's Small Town Heroes, leans heavily on traditional folk music and Americana while infusing it with 21st century grit and charm. Below Dreams, which Bradley crowd-funded in part and filmed cinema-verite style in the streets of New Orleans, tells the story of three individuals from different neighborhoods struggling to fulfill their dreams.
In addition to music and film, This Is NOLA will also showcase the thriving local culinary scene. Classic New Orleans dishes from the NOLA Girl Food Truck and "pizza classica" from St. Clair Pizza are among the highlights. Through their partnership with the creative catering company MyHouseNOLA, Price hopes to keep offering diverse dishes at each This Is NOLA event in the coming months.
Other highlights include specialty craft cocktails from mixologist and New Orleans native Konrad Kantor, and visual art installations from Kate Hanrahan, a local painter and mixed media artist who has exhibited her work all over the country.
"We don't want for it to be just a music show," said Price. "We want to get all these groups of people into the same space and see what happens."
That space is the Joy Theater theater at 1200 Canal Street. Originally a mid-20th century modern movie house, the Joy closed in 2003, only to be resurrected as a music and special event theater in 2011.
"It's become one of the best places to see a show in New Orleans," said Price. "Great sight lines and acoustics." With a spacious and gorgeously renovated interior, the Joy is an excellent home for an event as expansive as This Is NOLA, capable of accommodating all kinds of shows, be it music, theater, comedy, fashion, or any other type of event.
Price hopes This Is NOLA can adapt and encompass more artistic communities as it grows and builds a following in the coming months. "The idea is to program each event in a way that flows, yet still feels unpredictable."
This Is NOLA takes place at 8pm on Oct. 17th at the Joy Theater. Admission is free but you can RSVP for priority entry at thisisnola.org.