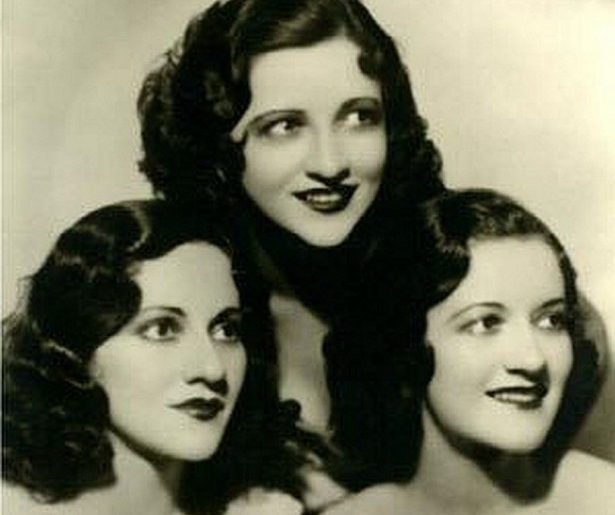 SHARE
A century ago, in 1914, Martha, Connie and Vet Boswell moved with their family from northern Alabama to Uptown New Orleans, on Camp St. The girls, all classically trained by New Orleans music professor Otto Finck, were singing sensations throughout the 1920s and '30s, first locally via New Orleans radio, and later, throughout the entire nation.
Their close harmonies, tight vocals and cheerful subject matter could be heard on radios quite literally from coast to coast; at the height of their popularity, the Boswells of New Orleans were performing on NBC and CBS radio in New York City, and collaborating with the biggest names of radio's Golden Age, including Bing Crosby, Cab Calloway, Duke Ellington and Tommy Dorsey.
The sisters' performing career had ended by 1936, following their marriages (it was, decidedly, not the Beyonce era). But their influence carried on for much longer. Listen to Crazy People above, and close your eyes, and you can't help but visualize a black and white newsreel or film from the '30s and '40s. The bouncy vibe and consistent harmony is the sonic landscape of another era, and it's easy to hear, in the up tempo back beat, the rhythm of New Orleans (indeed, the sisters claimed Louis Armstrong as a musical influence).
Shout, Sister, Shout! The Boswell Sisters of New Orleans is currently on display at The Historic New Orleans Collection (THNOC), and will remain on view through Sunday, Oct. 26. According to THNOC, the exhibition features more than 80 items, many from the Boswell Museum of Music Collection, which THNOC acquired in 2011. The display also includes listening stations and a 10-minute documentary by filmmaker Dan Garrison.
From Oct 9-12 friends, family members and fans of the singing group will gather to celebrate the sisters talent and legacy with a weekend of special programming. The event has been organized by Kyla Titus, granddaughter of Vet Boswell, the youngest of the trio, and includes lectures, a book signing and live performances.
We're particularly looking forward to Jammin' in the Courtyard with Harry Mayronne Jr., music director of "The Boswell Revue," Oct. 10, at the U.S. Mint (1pm), and Thirty-five Years of Pfister Sisters Harmony on Oct 11, when New Orleans's own Pfister Sisters – Holley Bendtson, Debbie Davis and Yvette Voelker – will perform their renditions of close harmonies and jazz favorites (1pm, THNOC). A complete listing of events can be found at www.boswellsisters.com.
Admission is free, and THNOC galleries are open Tuesday–Saturday, 9:30am–4:30pm, and Sunday, 10:30am–4:30pm. The Historic New Orleans Collection is located at 533 Royal St. in the French Quarter. Visit www.hnoc.org or call 504-523-4662 for details.
Image courtesy of Wikipedia. Some text courtesy of THNOC.