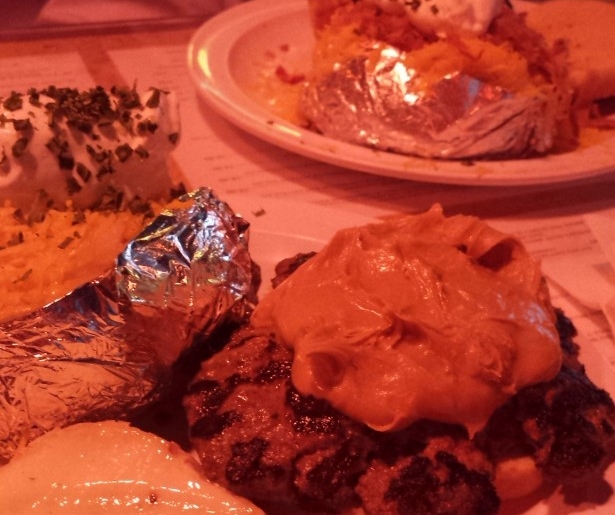 SHARE
The above? The peanut butter burger at Yo Mama's in the French Quarter. That sound you hear? The slow, creaking noise of liquid solidifying into a viscous mass? Those are my arteries hardening into the organs of an 80 year old.
There, New Orleans. There it is. My last meal. Who could survive such a thing? A half bloody pound (and I mean bloody; Yo Mama's doesn't play when they cook something medium rare, which I appreciate) of delicious beef, and a daub of peanut butter that could serve as the basis for a dozen elementary school brown bag sandwiches. Seriously – I've had peanut butter burgers before, and generally, the peanut butter is sort of cooked into the burger, so its more of a glaze than a spread. The above? That's half a jar of Jif. And it usually comes with bacon (I passed, because, well, I have a child and need to at least pretend I'm worried about my health).
Does it work? Folks. Don't ask me how, but a smooth bit of peanut butter goes over charred beef like, well, peanut butter and jelly. Both flavors have a ton of depth and umami; one is textured and crumbly, the other smooth and thick. A match made in heart attack heaven.
Oh, and it comes with a baked potato. If you're going to die happy from a meal, don't do it in half measures, right?
Look upon this grandeur and cower, New Orleans. Cower. And then get to Yo Mama's and have a burger.