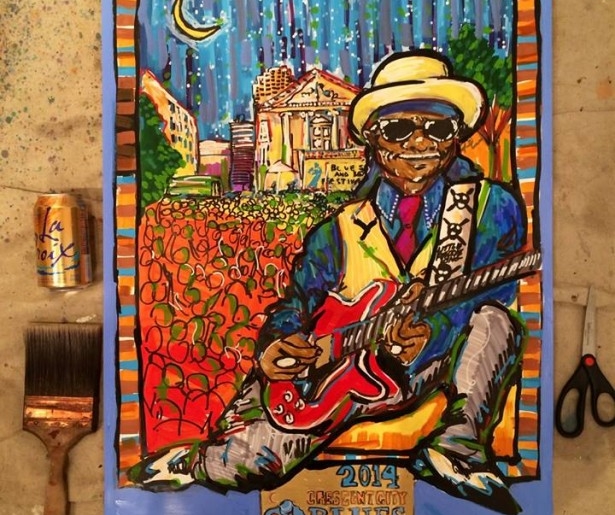 SHARE
Do any music and food combinations go together as well as blues and barbecue? Think about it. Watching Little Freddie King one of the great delta blues artists of all time, perform on an autumn evening in New Orleans is already a great way to start a weekend. Add a BBQ fried oyster po boy, or a pork and slaw taco, or maybe a crawgator kebab with zydeco sauce, and you've got a recipe for a good time.
This year's Crescent City Blues and BBQ Festival, presented by the New Orleans Jazz & Heritage Festival and Foundation, provides an diverse mix of blues music, food, art, drinks, and more. The festival is part of the Foundation's continued commitment to present live music year around in the city.
It takes place at Lafayette Square Park in the CBD from Friday, October 17th to Sunday, October 19th. Admission is free, though VIP Experience Passes that include specialty viewing and seating areas, a complimentary bar, and more, are still available.
Lafayette Square Park, which also hosts the 12-week concert series Wednesdays at the Square, is a perfect place for outdoor music. Surrounded by several high-rise office buildings, the square is spacious, yet intimate, with two stages at opposite ends of the park to prevent any overlapping sound. Various food vendors line the adjacent S. Maestri St. while arts and craft tents dot the rest of the park grounds.
Many of the same BBQ restaurants from years past have returned, including Bywater-based mainstay The Joint, and Uptown's Squeal Bar-B-Q. I had two plates of their bacon and jalapeno mac & cheese last year. Delish.
In addition to food and music, there's a beer and television tent for those looking to stay updated with weekend sporting events. Also, on the ground floor of the nearby Gallier Hall, several of the weekend's performers will be interviewed as part of the Foundation's Oral History Stage.
One highlight of those interview sessions will be Leo "Bud" Welch from Mississippi, an 82-year old gospel and blues singer who put out his first proper album just one year ago. Welch worked a variety of jobs and small musical side-gigs over the course of his life, but has only recently gained national attention for his songwriting. He performs Saturday at 1pm on the Camp Street Stage and his interview is at 4pm that same afternoon.
Other musical highlights:
Ana Popovic (Friday, 7:00pm – St. Charles Stage)
Memphis-based blues guitarist and songwriter Ana Popovic blazes through guitar solos like few others in the game today. She frequently covers Hendrix, and in 2014 was nominated for a Blues Music Award as "Contemporary Blues Artist of the Year."
Walter "Wolfman" Washington (Saturday, 4:30pm – St. Charles Stage)
Native New Orleanian and funk/blues connoisseur Walter "Wolfman" Washington plays smooth, R&B infused jams with his backing band The Roadmasters. A constant at both The Maple Leaf and Jazz Fest, Wolfman personifies the slick side of New Orleans blues scene.
Los Lobos (Saturday, 7pm – St. Charles Stage)
Los Angeles natives and Chicano rock and blues band Los Lobos headline the 2014 festival. The award-winning group has an eclectic discography that spans decades, including the 1992, experimental dream-blues masterpiece,Kiko and the Lavender Moon, and a grammy-winning single for the 1996 action-movie classic Desperado, aptly titled'Mariachi Suite'.
Luke Winslow King (Sunday, 11am – Camp Street Stage)
Throwback delta-folk rock n roller Luke Winslow King plays blues music from a bygone era. He recently made a high-energy"music video with noted Comedy Central Workaholics' director Kyle Newacheck after the director stumbled upon one of his shows in the French Quarter this past year.
Bobby Rush (Sunday, 7:00pm – St. Charles Stage)
The always entertaining Louisiana native returns yet again to play his old-school brand of soul and R&B to close out the festival.
Another unique element of the Crescent City Blues & BBQ Fest: live painting from John Bukaty, a New Orleanian performance artist that specializes in creating canvass of artists in action. Check out some of Bukaty's incredible work from last year's festival.
The event caters to a wide-variety of concert-goers, from families to blues aficionados to barbecue experts. And it's free. For more details, see their website.
The 2014 Crescent City Blues & BBQ Festival
When: Friday, October 17th through Sunday, October 19th
Where: Lafayette Square Park.
Image courtesy of Facebook.