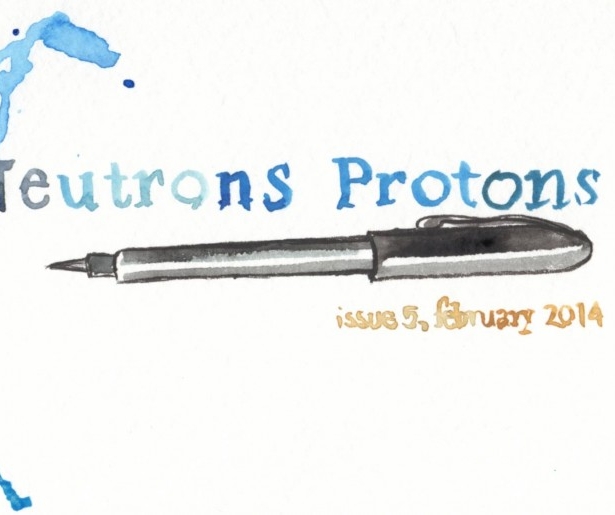 SHARE
You can't walk through the Bywater these days without tripping over an aspiring writer, but New Orleans has long lacked publications full of strong work. At Neutrons/Protons, an online and print publication celebrating its first anniversary, editor-in-chief Sophie Johnson culls the best creative nonfiction and humor to form a magazine that is half highbrow satire, half essay, to seek out her most important thing: the truth.
"[We publish] satire [because it's] specifically about a social issue or political issue in a humorous way — it's funny because it's true. Then with creative nonfiction…the truth is at the center of all of it," she says.
Johnson is a slender, fast-talking former journalist whose disarming patter about storytelling betrays her seriousness about writing as a form of activism. Her experience with the Orleans Parish education system informs her own work, and she thinks the use of voice in story is both a political as well as a stylistic choice.
"[This] form just continues to blossom, both creative nonfiction, New Yorker-style journalism and new journalism," she says. "[It's] this meticulous way people tell their own truth. They don't leave the word 'I' out of it."
In each issue of Neutrons/Protons, one finds Johnson's mixture of meaningful satire and narrative. In one piece, a writer describes her first haircut after her mother dies. In a humorous list, local writer Alex Woodward describes the top ten breads he's encountered in the past year. (Winner: Bellegarde Bakery's baguette, described in the magazine as "dank.") [Editor's Note We agree]
Each story is illustrated with an original watercolor, and most issues include a short series of comics. Johnson wants the magazine to be part of a movement that preserves longform journalism, memoir and comics as media.
"There are a lot of people who don't want [those forms] to go anywhere. I think longform has gotten a lot better in the last ten years…people are working really hard to preserve this factual storytelling," she says.
In the upcoming weeks, Neutrons/Protons will host a series of themed writing workshops in collaboration with Press Street's Room 220. With these workshops, the magazine's staff hopes to give the writing community time and space to work and workshop. The events will emphasize craft and the importance of collaboration.
Those who are interested in submitting to the magazine can work closely with peers and magazine staff to develop their ideas, chasing the elusive "so what?" well-known to veterans of writing programs.
"The point is more like, tell your story because you have a reason that you want to tell it. Don't just tell it because it's there," Johnson says. "Just workshopping with one other person…really improves your work, period. It can make a really big difference."
Image courtesy of Neutron Protons on Facebook.