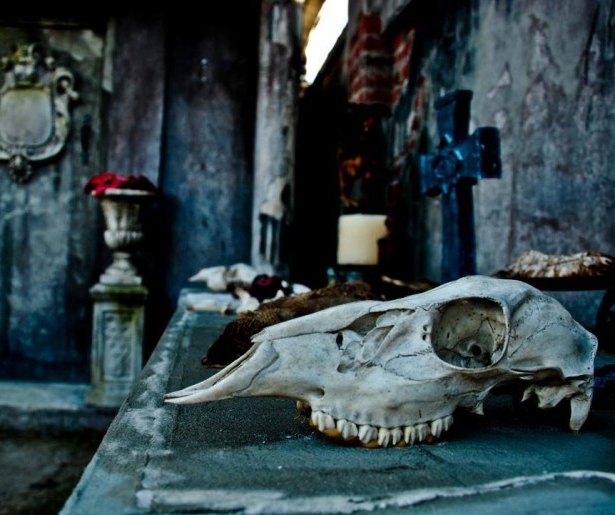 SHARE
With Halloween fast-approaching, and the new season of locally-filmed television series, American Horror Story, now underway, New Orleanians have plenty of opportunities for fright-nights the next few weeks. But while scary-movie nights or Halloween costume parties are fun, there's always something alluring about getting scared the old-fashioned way: by a costumed, make-up wearing, fake-blood splattered stranger lurking around the next corner of an elaborately designed haunted house attraction.
It may take a while for the weather to turn and actually feel like Fall in this town, but New Orleans is, hands down, the most haunted city in the country, makes up for a lack of chilly weather by giving scare-seekers plenty of chills down their spines. Here's a rundown of the some of the best haunted houses in and around New Orleans.
House of Shock 319 Buttersworth St, Jefferson, LA 70121
Let's start at the top. The House of Shock is the most notorious, lengthy, extravagant, and downright disturbing haunted house you're likely to come across not just in Louisiana, but in the whole country. The pseudo-satanic themed attraction includes dramatic performances akin to a WWE wrestling-match spectacle, and a near-deafening barrage of pyrotechnics, and that's before you even enter the actual haunted house. The waiting-line (which can be lengthy, especially on weekends) is surrounded by a stage of performers acting out a bizarre, dark origin story centered around the fate of all the souls about to enter the House of Shock.
This is not a haunted house experience for the faint of heart. The scarers take their job seriously. Don't expect any performer to break character, and be prepared for some seriously unsettling images (there's a _Rosemary's Baby_-esque section that's particularly chilling) as you make your way through a maze of themed rooms and hallways.
House of Shock has not been without its controversies over the years, as both local politicians and concerned parents have expressed their disapproval regarding some of the more cringe-inducing and blasphemous moments of the attraction. Still though, for the not so squeamish or easily offended horror buff, House of Shock is well worth the price of admission. And you better hurry too, since according to their website, this is the final year of the attraction.
Tickets are $25 for general admission and $50 for VIP Fast Passes that allow for front of the line access. Not recommended for kids 14 and under. The schedule is Friday and Saturday every weekend in October, Sunday Oct. 26th, and Oct. 29th through November 1st.
The Mortuary 4800 Canal St, New Orleans, 70119
Few haunted attractions can boast that they're located right next to a cemetery, but The Mortuary is actually sandwiched between two of them. The large, eerie mansion was a funeral home for much of the 20th century. The grounds now feature highly-detailed sets, a dimly-lit haunted maze, and an engaging theatrical element. The show begins with a performer explaining what kinds of scary sights await guests, which is a more intimate, less intense way to heighten the tension than the in-your-face pre-show at House of Shock.
In fact, The Mortuary serves as a nice antithesis to the controversial House of Shock, providing a more family-friendly experience, while still exhibiting plenty of grisly, fake-blood drenched spectacles. With that said, you might say the folks on Canal St. keep it more tasteful than their over-the-top counterparts out in Jefferson Parish.
Also, another terrific element of The Mortuary: a blood bank van parks just outside the entrance, and guests willing to donate blood can receive VIP access to the attraction.
Tickets are $25 general admission and $35 for VIP passes. The schedule is every weekend (Thursday to Sunday) with expanded dates with the week of Halloween (Open Oct. 27th – Nov. 2nd).
The Chamber of Horrors 7335 Jefferson Highway, Harahan, LA 70123
After closing up shop at its previous location few years back, The Chamber of Horrors has returned, this time in a former Winn-Dixie warehouse in a strip-mall off Jefferson Highway.
Strobe-lights, fog, and well-ornamented, ghoul-inhabited sets with a wide-variety of undead scarers make The Chamber of Horrors a strong, up and coming challenger to The Mortuary and House of Shock. The organization is still growing, but they do a lot with limited space. The performers are committed and routinely terrifying.
Tickets are $15 at the door, or free if you donate blood to the blood bank on site. The attraction runs every Friday and Saturday up until Halloween. Check out their Facebook page for current news and the occasional special offer.
The 13th Gate 832 St. Phillip St, Baton Rouge 70802
Yes, The 13th Gate is located in Baton Rouge, a bit of a drive for anyone in New Orleans, but the expanding, multi-faceted attraction is well worth the trip. It's gained national recognition in recent years, and boasts a large space with over a dozen themed areas that guests explore after an initial "Hellavator" ride to get the fear flowing.
The 13th Gate showcases a wide-variety of devoted performers, including zombies, ghosts, and especially clowns. Top-notch special effects make-up and some truly disorienting sets elevate the fright experience above many others. Also, across the street from the 13th Gate haunted house is another haunted cemetery-themed attraction. And lastly, the week after Halloween, 13th Gate offers Flashlight Fright Night, a reimagining of their regular haunted house experience, except all the lights are off and groups explore only with flashlights. Be warned: it's intense.
Tickets are $25 general admission and $50 for a "skip all lines" VIP pass.