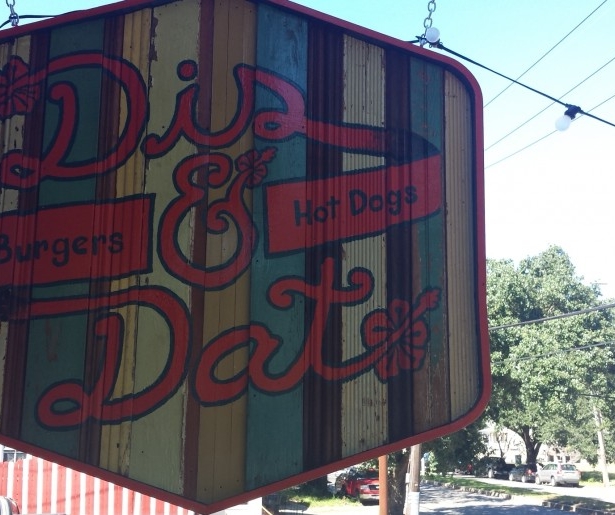 SHARE
When my wife and I rocked up to Dis and Dat for the first time, I knew I should have been thinking of many things: the structure of the eventual review I would write; the qualities of Dat Dog, owned by the same folks who opened Dis and Dat; the weather, which was great.
But being a child of the '90s, all I ended up thinking of was Black Sheep's classic The Choice is Yours. You know, the one that goes, 'You can get with this, or you can get with that…"
That was a reaction borne out of nostalgia, and the nostalgia nerve is right where Dis and Dat and its parent establishment, Dat Dog, hits us. Burgers and hot dogs – throw in pizza, and you've got the most fundamental building blocks of American comfort food.
Not that I would throw in pizza, because if I did, the crust may be made with the Dat Dog empire's signature sweet glaze (also, we'd need some kind of clever, 'd' oriented name; Da Pie, or something). Said sweet buns, along with some other elements detailed below, are the innovative spin that jazzes up the nostalgia element at Dat Dog and Dis and Dat, and are a regular feature of Dat Dog's glowing reviews.
Dat Dog also has a nice variety of encased meats and some local sensibility – it's hard for me not to love a place that boasts German and Harahan sausages – and it is here that Dis and Dat starts to make some departures from the award winning hot dog formula. Where Dat Dog boasts something like 17 different hot dogs on its regular menu, there are four burger options at Dis and Dat. That's a point in the place's favor, though. Sausages possess, due to the thousand ways you can make them, much more varietal potential than a burger patty, which in its elemental form is a Good Thing that Should Not Be Messed With.
So that's an understandable difference between the two Dats. Here's where there are similarities: Dis and Dat has an al fresco eating area that includes sunny sidewalk and shady porch. The service is friendly, but not overbearing. The bar is well stocked. The color schemes and decor are funky enough for New Orleans, and friendly enough for families.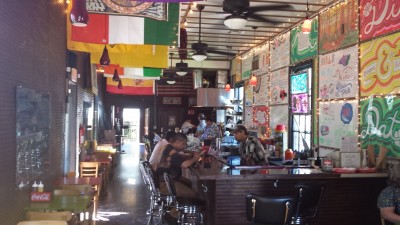 All of the above are feathers in the Dis and Dat cap. I would happily bring my daughter here, but I would also bring a bachelor party for pre-drinking dinner (or Sunday after lunch). Few restaurants in the city of New Orleans can appeal across such a wide demographic spread, and the Dat businesses deserve credit for that accomplishment.
But in a city with no shortage of great burgers, I need more than atmosphere. I need a patty on a bun that leaves me breathless. The Dis and Dat burger is very good, and in most other cities it would be the best thing going, but I can't honestly say it's my favorite burger in a city that produces superlative burgers at a ridiculous clip.
The irony is that the deal breaker for me is the signature Dat sweet glaze, which in this case messes with the Good Thing that is the burger itself. I want a piece of meat that's loaded with umami, smokiness and maybe a little salt and spice; if sweet is to be had, I'll ask for grilled onions on top and a coke on the side.
Maybe this works for other customers. It just didn't do it for me, and that's a shame, as I loved everything else about the place and even appreciate the sweetness in my Dat Dog hot dog bun. On that note, there are several Dat Dog sausages on the Dis and Dat menu, as well as chicken breast, vegetarian dogs, sea and swamp dogs (the latter two made with cod, gator and crawfish sausages), and the usual enormous (and delicious) Dat Dog range of toppings, ranging from dill pickle to etouffe.
Dis and Dat
2540 Bank St
504-909-0458
Open daily 11:30am-9pm