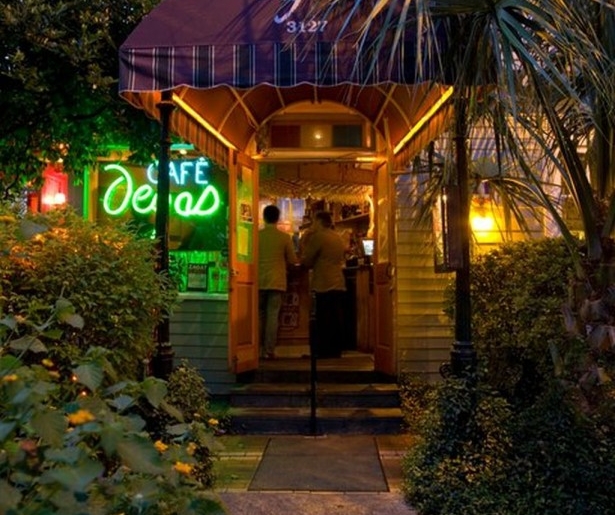 SHARE
Went to a buddy's birthday party last night at Swirl. There was a wine tasting on, and a mixed crowd – UNO professors, solar energy installers, teachers, the tattooed and a few dogs – were sipping on fermented grape and nibbling on cheese. Everything was lovely and convivial and did I mention the wine and cheese? Because wine and cheese. C'mon.
Then I left Swirl and popped into Canseco's because I needed some essentials and Canseco's is one of my favorite small grocery stores in the world. It feels local. It feels convenient. But Canseco's would never abrogate it's localness in favor of convenience. There was no People magazine tempting you for an impulse buy at checkout. Instead, there was Mr Okra in Your Pocket. The guy at the counter in front of me asked the teenage checkout clerk, "How many of those do you sell"; at that exact same moment, someone the next aisle over pushed the button on a pocket Okra who yelled I have the mango.
The checkout clerk smiled. "A lot. We sell a lot."
Outside? Perfect weather. The Christmas lights were on in Alcee Fortier park, which lends its name to my unofficial title for this area: the Fortier Triangle. The park is a warped polygon that is a perfect example of what a city should do with an irregularly-sized lot. Can't stick a house or a business there? Great: grass up the space and fill it with comfy chairs, strings of fairy lights and a vibe that's so neighborly you want to bake the park a pie on weekends.
And then I walked by Cafe Degas. And it was that moment, that crystalline Cafe Degas moment, when the sun has set and 95 percent of its light is gone but there's a bare trace of its heat signature leftover. If you had infrared glasses, the heat and the light would register in the sliver space of the rainbow that sits between purple and indigo. Peek into that deep, royal color and you'd see a pecan tree growing through a French bistro and the customers inside sipping their wine and laughing and touching fingers and the indigo-purple light is all soft focus through the clear tarp windows that zip up and face the little sidewalk broken into an entropic set of dominos like some modern Angkor Wat by the big nearby tree roots, and the late May air in New Orleans feels like a lazy massage from the moon, and everything smells deeply, enticingly, alive.
I'm just saying: that's a perfect New Orleans moment.
Images courtesy of Cafe Degas, Flickr and Infrogmation of New Orleans