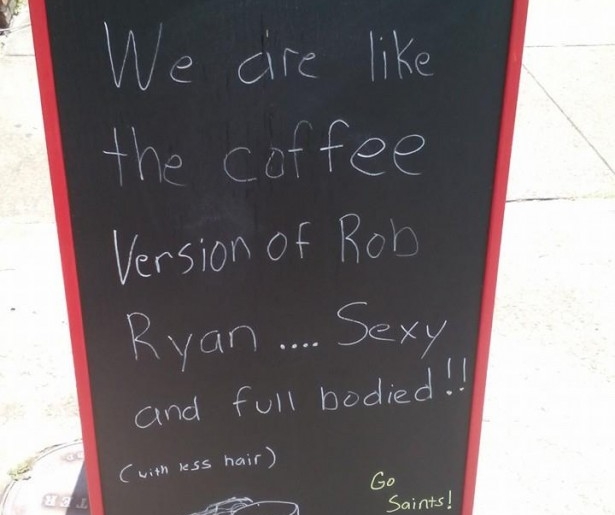 SHARE
New Orleans doesn't lack for excellent coffee, and even compared to caffeine-crazed Seattle, we're a town that embraces cafe culture. You can credit a deeply rooted European sense of pleasure, our indigenous appreciation of the nice things in life and good conversation, and warm weather that makes sitting outside with a cup enjoyable.
On the more prosaic side are the usual culprits that are responsible for increased American coffee consumption: students, artists, intellectuals and creative economy types, the sort of demographic that wants a place to chat over a hot drink and surf the internet.
While the First Feast column traditionally focuses on restaurants, we mention the above because places to drink java are just as important to New Orleans. As such, we want to give credit where it's due to the great coffee houses of our city. Our latest discovery? Krewe du Brew.
Located on the downriver side of St Charles Ave, Krewe is a small spot; I doubt you could sit more than two dozen customers. Correspondingly, the places to plug in your computer are limited, so if you're in the mood for a long laptop jag, you may want to come with a full battery. There's an outdoor area that looks out to the streetcar line, and is good for people watching; at this end of St Charles Ave, there's a fair bit of foot traffic and street life, especially compared to leafier stretches in the heart of Uptown.
There's a book exchange nicely stocked with both pop paperbacks and deeper novels; as an example of the latter, I spied a copy of Loving Graham Greene. Otherwise, this is a cafe, unremarkable except for remarkably friendly staff and remarkably good coffee.
I can't stress these two points enough. Sometimes, you can see when the smile of a business owner doesn't reach their eyes. That isn't the case at Krewe du Brew – the management seem genuinely happy to engage a new human being, as opposed to simply serving a customer. And as evidenced by the picture above, everything they do is inflected with a sense of humor that is both slyly clever and refreshingly warm.
Besides that, their brew is strong, potent and flavorful. If you're the type to eschew cream and sugar, you'll appreciate the depth of this spot's coffee. If you do like sweetening up that cup, all of the usual accouterments are available. Sometimes, you need a good cup of coffee. Sometimes, you need a friendly face. When you get both rolled into one independent business, that's a win win.