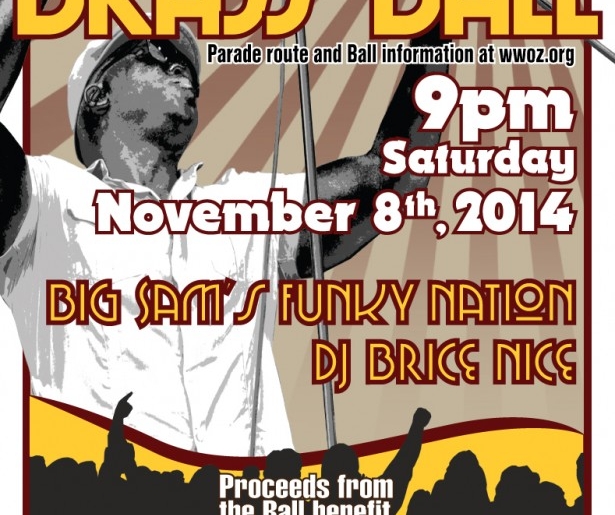 SHARE
Brass Bands music is a distinctly New Orleans thing. Jazz was born here, but has long since outgrown its Louisiana roots and evolved into a worldwide commodity. The Blues were born further up the delta, but much of that music migrated north to Chicago, and outwards to the rest of world. Even New Orleans hip hop has gone global; when Big Freedia gets a reality show on Fuse, it can safely be said a genre invented in the city's poorest wards is now a national phenomenon.
But brass music, despite the touring popularity of bands like Rebirth and the Treme Brass Band, still feels as local as a snowball on a summer's day. In fact, I'd argue much of the touring success of the above bands stems from people seeing these acts as New Orleans music and New Orleans shows; brass bands always seem have that N.O. geographic adjective appended when they play outside of Louisiana. In contrast, someone like Katy Red is often promoted as simply a bounce artist, as opposed to New Orleans bounce artist.
For all that intensely local spirit, there hasn't been an official day to celebrate New Orleans brass. Until now. On Saturday, WWOZ rings in the first annual Brass Menagerie and Brass Ball. Ten local brass bands accompanied by ten local marching krewes (including Chewbacchus. Nice!) will assemble at 6pm on 527 Elysian Fields Avenue (near Chartres). The parade will roll at 8pm through the French Quarter and the Marigny.
When the Brass Menagerie Parade ends, the Brass Ball party begins, around 9pm, at the Blue Nile. Admission is $15 in advance, and $20 at the door, and proceeds benefit WWOZ.
The full lineup of the Brass Menagerie has yet to be announced, but we do know about seven bands on the roster, including:
Stooges Brass Band
How good are the Stooges? In what may be a master stroke of cultural diplomacy, the State Department sent them overseas to tour in Pakistan and India. As you can see from the below, they like to work some hip-hop into their flow.

Lagniappe Brass Band
This seven piece band has some serious funk in their bones. The song A.P. Tureaud is a classic of the brass catalogue, and Laginappe's below take is one of my favorite versions; when the horns kick in with that iconic riff at 1:48, I get shivers up my spine.

Pocket Aces Brass band
What I love about the Aces is that they always seem to be having fun. Their shows are an uninterrupted string of playful banter, audience participation and tongue in cheek jokes. And they can wail too, so credit.

Free Agents Brass Band
Sometimes, you know from the first bar of music that a band's members are operating in incredible creative sync. Listen to The Free Agents' ridiculously tight Fatboy below if you don't know what I'm talking about. I'm also throwing in this video, which is more promotional than musical, because it's just an excellent depiction of a Second Line.

New Breed Brass Band
The nine members of the New Breed have been playing together since high school, and it shows – again, this is a band where the members seem to finish each other's sentences (or musical measures). The below video, by Deborah Cotton, one of the finest documentarians of New Orleans street culture, perfectly captures a quintessential New Orleans moment: the New Breed leading a Second Line of Baby Dolls and skeletons during Mardi Gras in the Treme.

Browncoat Brass Band
I'm guessing the Browncoats will march with Chewbacchus. That's because they're a science-fiction themed brass band, which may be the only time I ever type that sentence. The name derives from 'browncoats,' a political faction from the cult show Firefly; here's the Browncoats playing the Firefly theme at the Chewbacchus parade. Keep Flying, guys.

Hot 8 Brass Band
The Hot 8 is one of the city's best bands, period. They're simply in a league of their own. I first heard the song New Orleans After The City on the show Treme, and I couldn't stop listening to it for days. It's one of the best 504 hometown pump up tracks you can find; at 2:04 it goes from catchy to totally infectious.