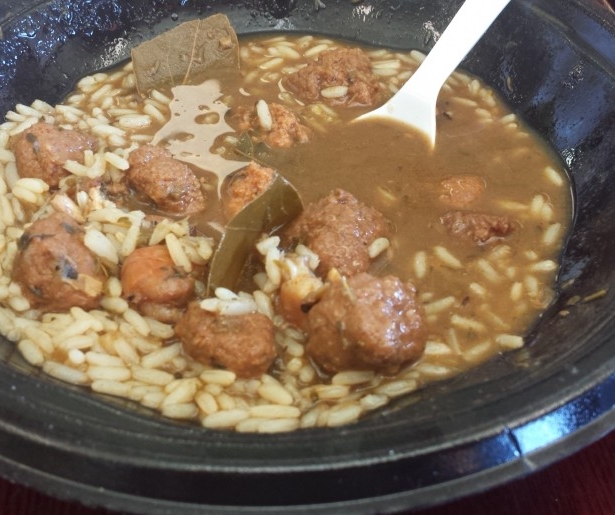 SHARE
This weekend, the city will celebrate the Seventh Annual Treme Creole Gumbo Festival, held in Armstrong Park in the heart of the Treme (imagine that).
There's an obvious food focus to the event, but this being New Orleans, the food shall go hand in hand with music, as is right and just. Over a dozen bands will play during the festival, and seeing as things will shut down at 7:30pm, attendees can switch straight from gumbo to the WWOZ Brass Menagerie parade, which begins at 8pm.
For all that (literal) jazz, food – specifically gumbo, natch – will be the focus of the festival. Ah, gumbo. We've written an entire history of this dish. The classic throw everything in the pot and simmer technique is somehow both deceptively simple and maddeningly complex.
I'm comfortable saying gumbo by far the most iconic food Louisiana has ever produced. When overseas, the words 'jambalaya' and 'etouffee' often yield a blank stare, but if I say 'gumbo,' ears perk up – the dish is that famous.
Ingredient wise, gumbo is an apt (if overused) analogy for Louisiana culture as a whole, a blend of European, African and Native American influences culled from the bayous and prairies that ultimately yields something delicious.
With that said, there are as many different gumbos in the world as there are cooks. The question of who cooks the best gumbo is a contentious one, an implicit ranking that could cause physical altercations in some parts of town. Let's leave it at this: someone in your family probably makes the best gumbo in the world, because gumbo is the Platonic Ideal of home cooking. Otherwise, here are some of our picks. Oh, and to find out which gumbo you love, block out some time this weekend for the Gumbo Festival; it's gonna be wonderful.
Also, if you're interested in learning more about the dish – and any other New Orleans foodstuffs – make sure to visit the Southern Food & Beverage Museum in Central City.
I'm so fancy…
Gumbo is classic peasant fare, the sort of dish the rural poor invented out of necessity. It's a formula repeated around the world: use what you have to yield tasty calories that can ideally cook in a pot, un-watched, while you work the fields, streams, etc. Later, gumbo became beloved by the top echelons of society.
The gumbo at Herbsaint, an outpost of Cajun chef Donald Link's culinary empire, is notable for two reasons. First: it's a gumbo from the Acadian prairie, one that eschews New Orleanian seafood for a gamier, meatier experience. Second: it's presented with all the elegance and dignity one expects from white tablecloth dining, but it tastes so good you're tempted to sip the last dregs out of the bowl.
Go green
There's a vegan gumbo competition at the Gumbo Festival this weekend. That may sound like oddly out of place modern dietary trending to you, but there's a strong precedent for vegetarian (if not vegan) gumbo in this town. Gumbo Z'Herbes, most famously made with nine types of greens at Dooky Chase, is a long time local meat-free favorite during lent. The version you'll see cooked below is decidedly not vegetarian_, but there are vegetarian and vegan friendly Gumbo Z'Herbes recipes out there that even this author (an avowed carnivore) can not only appreciate, but fall in love with.

TRADITION!
The above subhead is stolen from Fiddler On The Roof. When Tevye bellows "Tradition!", he's singing a song, and promoting an ideal, that a lot of New Orleanians can get behind. Heck, the reason gumbo is such a thing here is because we embrace and conserve traditions. That can be a good and bad thing – stick to tradition too hard and you miss out on new flavors, although most New Orleanians are willing to at least try something new – but either way, it gives the city a distinct sense of place.
Anyways, going out to eat is an old family tradition in this town, and one of the best old school restaurants for classic New Orleans gumbo is Mandina's. This iconic Mid-City fixture serves up a seafood gumbo that hits all the right notes. if you could boil down 'comfort food' into soup form, you'd get Mandina's gumbo.
The unexpected food find
It's nice to eat gumbo in a pretty restaurant, but sometimes you find the best bowls in a storefront with all the atmosphere of the moon. That was my experience at the original Cajun Seafood, at 1479 N Claiborne Ave (open from 10:30am-8:30pm weekdays, til 9:30pm on Fri & Sat). Cajun Seafood is basically a large convenience store and seafood shop, selling raw and cooked shellfish along with fresh caught and cleaned fish. They also have a little kitchen in the back, and that kitchen served up one of the best seafood gumbos I've ever eaten. Plus, that amazing Styrofoam container of goodness was dirt cheap. Highly recommended.
It's all down to your taste
As each gumbo is so different, it's impossible to pick a best overall. I can, however, tell you about my personal favorite: the gumbo at Freret St Po-Boys & Donuts, at 4701 Freret St. You can see their gumbo pictured above. it's a meaty, sausage-heavy bowl, with a lovely dark roux base and little flecks of fat that melt in your mouth. It's slightly greasy – just enough to be tasty, not so much to be oily – thick without being stodgy, and consistently delicious. Is it the best gumbo in town? I'm not sure, but it's the bowl I usually default to.