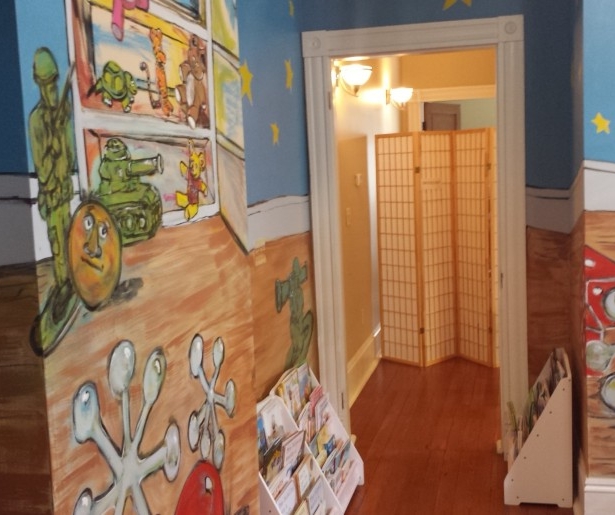 SHARE
I want to tell you I fell in love with Tubby & Coo's, the city's newest independent bookstore, when I stepped inside, but that's not entirely true. I fell deeply in like with the store at first glance, impressed with a range of reading material that was clearly well curated and thoughtfully displayed. But I fell in love when I went upstairs into a children's section/wi-fi sitting space, and saw the below mural.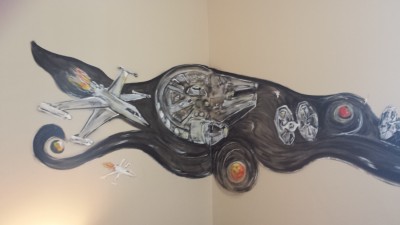 I'm fairly convinced that a surefire happiness formula is tapping as deeply as you can into your inner child, and to that end, the above Star Wars themed mural drilled right down to reservoirs of boyhood I haven't engaged in awhile.
At the same time, a very adult part of me, specifically the part that recently welcomed a child of my own into the world, was deeply appreciative of the bookstore's efforts to appeal to children and families. I'm always a fan of getting more books into the hands of kids, and this was exactly the sort of reading space that would have appealed to me back in the day.
Located in Mid-City, Tubby & Coo's is, per its own description, a 'nerdy book shop' with a focus on sci-fi, fantasy, mystery, horror and children's lit. To hit the point home, the store's motto is "It's All Geek To Me!"
There are board games and geeky merchandise rounding out the offerings; in general, the store is a safe space for those who can really appreciate a good Chewbacchus parade. On that note, the store already hosts Dungeons & Dragons nights on Thursday evenings.
I won't pretend Tubby & Coo's carries books you'd never be able to find anywhere else, but while you may find Harry Potter on Amazon, you won't be able to have an in depth discussion about plot intricacies with a computer screen, whereas one of Tubby & Coo's' owners has a picture of herself at Platform Nine and Three-Quarters.
This is ultimately what sets this store apart: an attention to detail a book lover or a geek (or both) can't help but appreciate. You see it in art that references Charlotte's Web, and a floating display of books that lines a staircase decked out in a mural of literary masterpieces titles.
Tubby & Coo's
631 N Carrollton Ave
10am-7pm, closed Wednesdays