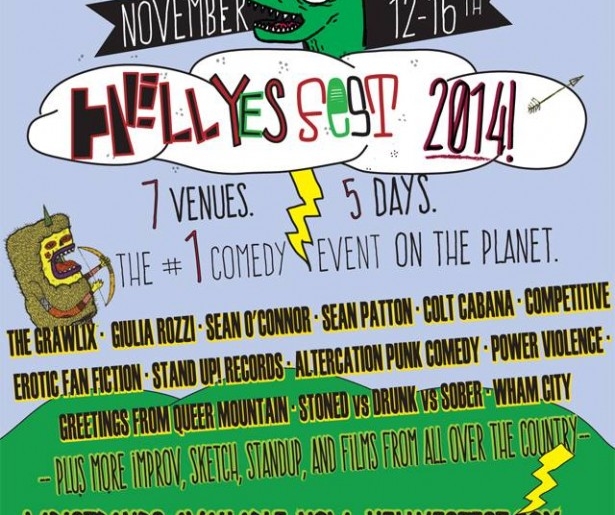 SHARE
Comedians love New Orleans. The reasons why are fairly obvious – this is a town that loves a good laugh and a well told story, and on top of that, we're big on hosting and hospitality. A good comedian might pull in more audience members at a gig in Atlanta or Dallas, but they know they're going to have a good time in New Orleans (Hannibal Buress hit all the right notes on the Jimmy Fallon show awhile back).
In addition, there's a nighthawk, social outcast, working-odd-hours bond between the entertainment and service industry, and New Orleans is thick with people involved in both sectors (sometimes simultaneously, if you count folks working the latter while hoping to break into the former). If you enter a bar in the wee hours of the morning, I can guarantee off-work actors, comedians, waiters, waitresses and bartenders will make up a big chunk of the clientele.
That's all to say comedy is A Thing in New Orleans – we've even got a guide to the local scene – and this upcoming weekend is one of the biggest events in the NOLA comedy calendar: Hell Yes Fest.
What's on deck? From Nov 12-16, the city will be inundated with comedy acts selected by The New Movement, the largest improv collective in town. Over 40 shows are kicking off at eight venues, and if you don't want to mess around with tickets for individual events, a $95 wrist band gets you into every show on schedule (link to ticket purchases below).
Otherwise, there's a lot of comedy, presented via sketch, storytelling and improv, on offer. Individual tickets are $10 in advance, and $12 at the door. Hell yes Fest will merge local talent with out of town acts; New Orleans standbys like CJ Hunt and Kyle June Williams, who created Sunken City, our town's very own web series, will perform on the same nights as folks like Josh Androsky, a featured performer on This American Life, and Julia Prescott, who has written for the Cartoon Network and VICE.
Some winners from the schedule include West Coast/Gulf Coast, which will showcase emerging talent from LA to L.A. (as it were), the LQBT storytelling extravaganza of Greetings From Queer Mountain, and the Wiseau Awards, an awards ceremony for film making named for one of the most infamously awful directors of our time.
Here's some final thoughts: the New Orleans comedy scene has undergone unprecedented growth in the post Katrina years. Previously, this was a town that people performed in; now we're making the performers. But there's something to be said for a local scene that both remembers its roots, and does a good job of nurturing them. Check out the below commercial for La Divina Gelateria, made by many of the folks who will be performing at Hell Yes Fest, for proof.

It's hard not to love a scene that gives back to its city. So city, give back to that scene. You'll get more than a few chuckles in the process. Find a complete schedule of events, and tickets, here.
Image courtesy of Hell Yes Fest.