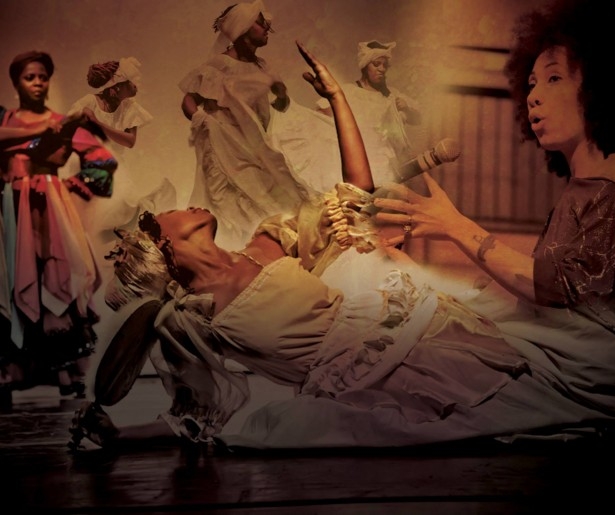 SHARE
New Orleans is one of the seminal cities of the African diaspora, the human migration of individuals from West Africa across the world. Some of the largest slave markets in North America were located here, and it was in this city that traditional African music was married to European classical orchestration and military brass pageantry, thus creating the kernels of all American pop music. In addition, the historical presence of Free People of Color and the agency that community built lay the foundation for much of the modern Civil Rights movement.
This history, and links between the African American and Afro-Caribbean community, are the focus of Gomela/to return: Movement of our Mother Tongue, a dance performance that is entering its last week on stage at the McKenna Museum of African American Art this week. From Nov 20 til Nov 23, you can catch this unique performance, which features award-winning artists–poet Sunni Patterson, trumpeter Troy Sawyer and the Kumbuka African Drum and Dance Collective. The show is being put on by Junebug Productions.
In a performance that mirrors the spread of African culture, and its growth into African diaspora music, the show blends African dance and drumming with jazz, spoken word, hip-hop. Connections between Africa, Haiti and New Orleans will be stressed, and the evening will reflect a historical journey from the 1811 German Coast slave rebellion to Plessy versus Ferguson to the development of jazz to the Civil Rights movement to the construction of I-10 and accompanying inner city deterioration.
Shows start at 4pm, and you can buy tickets (adult/student $20/10) here or at the McKenna from 2-4pm on performance dates. much of the show takes place outside, so dress warm. And remember, you get half off a ticket if you show up with a Fringe Fest button.
Image courtesy of Junebug Productions.