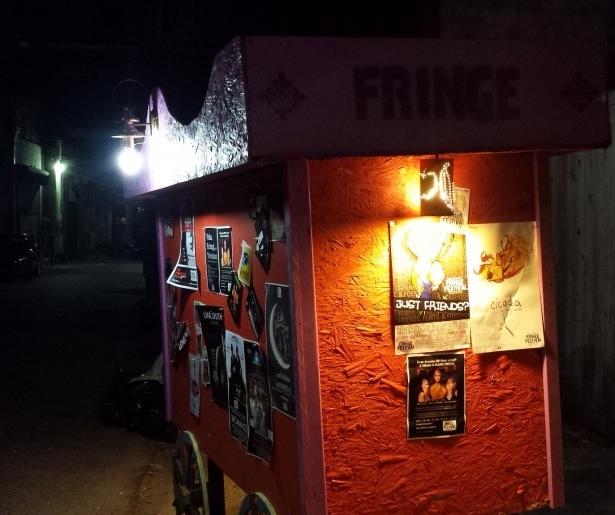 SHARE
[Cue Andy Williams music] It's the most wonderful time of the year…for those who love independent theatre in all its colorful diversity. From today until November 23, the New Orleans Fringe Festival, a veritable carnival of theater and performing arts, will take over the Bywater, Faubourg Marigny and Central City.
Over 80 shows will be performed at over three dozen venues in the coming days. We're loathe to say 'plays,' by the way, because Fringe is accepting of all kinds of performance art. Puppetry, live storytelling, circus arts, improv, poetry and regular stage shows all feature in the Fringe lineup.
Fringe festivals began in Edinburgh as a showcase for experimental theater, and while the Scottish capital retains one of the strongest fringe scenes in the world, New Orleans is an American powerhouse of the genre. This isn't all that exciting – we're a city that loves masking, satire, costuming and of course, a good performance. Throw in the area's magnetism for the misfit toys who tend to patronize Fringe and it's easy to see how such a relatively small city makes a disproportionate impact within the Fringe world.
There are eight venues in the lineup managed by New Orleans Fringe, and 21 BYOVs – bring your own venues. These are performance areas organized by the artists and can be as traditional as the stage at Cafe Istanbul as, to as random as the karaoke space at Kajun's.
Plent yof shows are more than a little adult, but with that said, Family Fringe is a thing, and there will be activities for kids every half hour from noon til 5pm on Nov 22 & 23 at Dauphine and St Ferdinand St.
To get into shows, you buy a $3 Fringe Button (good for the entire festival), and then $8 tickets at the door for each show unless otherwise noted. There are too many shows for us to list, but you can find a complete list here – the sheer daunting size of that performance list speaks to the Fringe (and frankly, New Orleanian) motto of Fringiness, Quality and Inclusiveness.