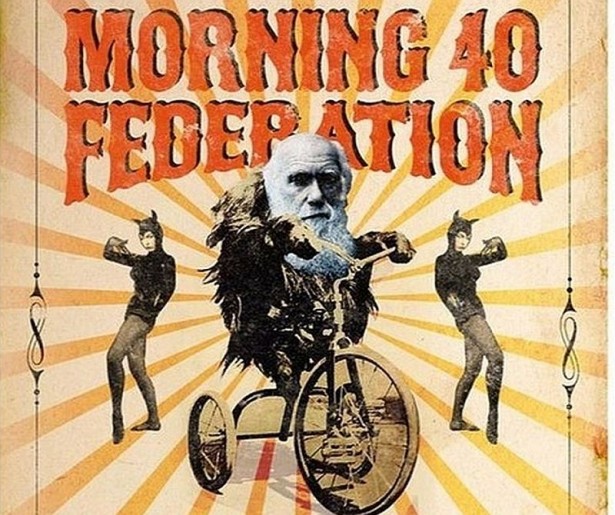 SHARE
Have you ever wondered who the talent is behind all the concert posters you see around town? Casual fans and groupies collect them in droves. Sometimes it's because they like the design; sometimes it's because they like the band; usually it's both.
These artistic endeavors colorfully enhance our already-beautiful city while informing us about the next big (or small) show. It's an absolute truth that music brings people together, and for many graphic artists, it serves as inspiration and networking opportunities, too. NewOrleans.Me tracked down a few of the illustrators and musicians to find out the story behind some of the coolest posters around town that not only promote art, but exist as collectible art on their own.
John Driver is a booking agent, producer and promoter with Family Fish Productions. An avid art collector who has been saving posters for 25-30 years, Driver is also an art director who facilitates collaborations between various artists.
"I'm old-school," he explains. "I believe in the written word and the visual word."
Driver has a knack for picking up on the personality of a band or solo artist and then facilitating great collaborations between musicians and visual artists, who all bring something to the table. For a recent Halloween bash promoting the band Soul Creole at Chickie Wah Wah, Driver hired painter Michael Guidry and graphic artist Scott Williams to collaborate on a three-part series featuring whimsical, carnivalesque monkeys.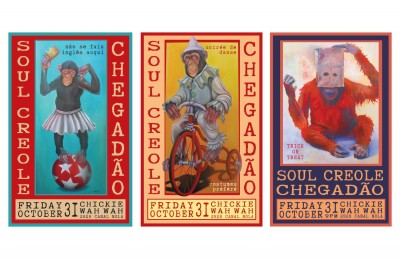 "I thought it was unique and Halloween-esque," he says. "Soul Creole is a coon-ass Zydeco band. They are accordion-driven, and they are a dance band. The poster idea was humorous. I liked what I saw; I liked the images and thought they would work. Each one of the posters was in a different language," he says: Portuguese, French and English, mirroring the city's international flavor.

"This is a three-part team," he continues. "I don't do graphic art, and I don't paint, but I have music sensibility. I've done this for every show I've ever promoted. It's something I believe in as a promoter and producer." His enthusiasm is evident: "My biggest addiction is paintings. I'm not getting anything off it," he says. "I'm the Mickey Rooney who turns to Judy Garland and says, 'Hey! Let's put on a show!'"
Then, there's Andres Orozko, who had a serendipitous encounter at R Bar that led to making new friends in his adopted hometown – along with a nice artistic gig. Three years ago, shortly after moving to New Orleans from his native Colombia, he met members of the Happy Talk Band over drinks one night, including Bailey Smith, who's also a member of Morning 40 Federation.

The men hit it off, and Orozko, who's been in the graphic design field for 13 years, asked them if he could design one of their posters. "I usually give him free rein [for the poster design]," says Smith. "Then I'll make suggestions or edits after seeing the initial idea. Andres tends to nail it from the get-go though." Orozko says, "I love projects that involve the typographical use and the exploration of mistakes as an aesthetic tool."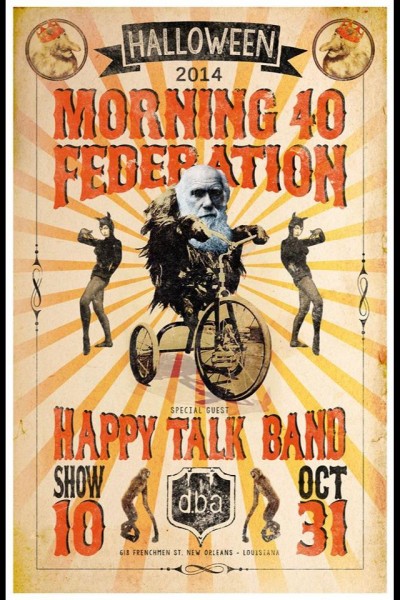 A recent poster promoting Russell Batiste was created by Jared Swart, a multi-talented artist who excels at painting, filmmaking and playing and recording music (he's also a whiz in the kitchen and worked as a cook for several years).
Swart met Batiste in 2014 through a mutual friend, fellow musician Tom Matthews, and forged a friendship. "I got the Russell gig the way I've gotten most gigs in life – be it music, visual art, or even cooking jobs, through a friend of a friend and being in the right place at the right time," he acknowledges.
At the time, Matthews was showing Batiste a shirt Swart had made as an homage to Professor Longhair. Batiste suggested, "You could do a shirt of me," and Swart quickly agreed. New to New Orleans at the time, he says, "I was, for the most part, unaware of Russell's career. I subsequently learned I was doing work for a true player in the New Orleans music scene with a family history rooted in New Orleans music for generations."

For the most part, Swart creates abstract art full of coded social and political commentary – he strives to both deliver messages as well as inspire free thought. He also says art is therapeutic to him in relation to what is happening or what has happened in the past.
"I almost never will say exactly what one particular piece is about," he reflects. But with Batiste's poster, he admits: "I wanted to show Russell in a light that was reflective of his accomplishments and legendary family name. While Russell is very accessible, and pretty much anyone can meet him at any of his gigs, I would like to think my work will document the great stature of his achievements in music."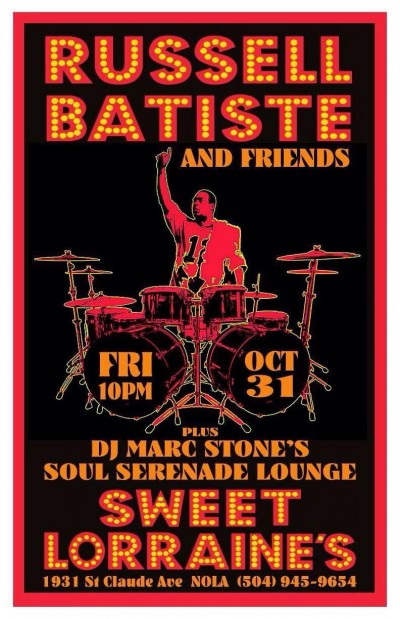 It's undeniable that living in New Orleans further inspires Swart to keep creating: "While other cities have music and art scenes," he says, "There is no other city where music is appropriately regarded as culturally and historically important."