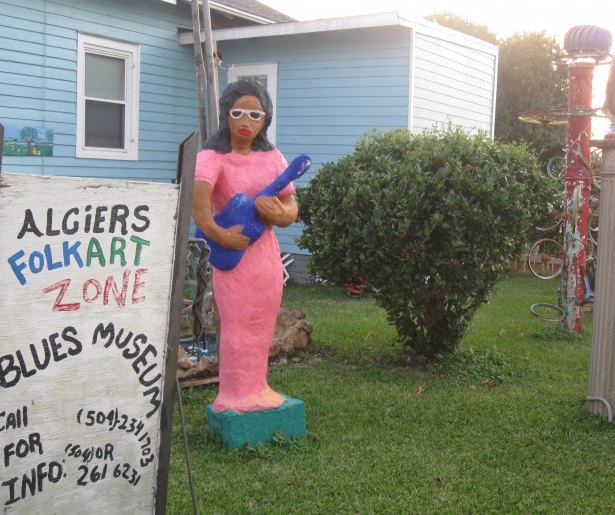 Outside in his colorful fenced-in courtyard along the Algiers Point levee on a beautiful fall day, Charles Gillam, carves a small tree trunk to look like the late New Orleans piano player, Professor Longhair. Gillam works surrounded by colorful, music-themed cement and brick sculptures and many fountains – Gillam's favorite being the loudly gurgling "Popeye fountain" he put together from the signature faux stones that decorate all Popeye's chicken restaurants.
Out front of the homemade "Blues Museum" he calls home, stands an array of charmingly lumpy statues memorializing, among others, piano prince James Booker and blueswoman Memphis Minnie, originally an Algiers native.
Born in the Lower Ninth Ward, Charles Gillam, 69, moved to Algiers 20 years ago. "I moved away from the Lower Nine because of hurricanes and bad economics and a host of other issues," he says as he hammers his chisel into bark. Algiers wasn't much better though, back then: "At first there were drug dealers on my corner here. When the cops would come, they would stash all their drugs in this one hollowed out tree stump in my yard."
In the years that followed, Gillam, who has often invited neighborhood children to his compound to learn painting, sculpting and carving, guilted the drug dealers into moving up the street a bit, and even converted a couple of them into youth mentors. Today it's hard to believe there was ever trouble in Gillam's now sweet, quiet corner of the Point.
Back in the rough years, Gillam's house was just beginning to look like an all-encompassing art exhibit. It took famous Chicago folk artist Dr. Charles Smith – himself originally from Algiers Point – to finally convince Gillam to go all the way and convert his home into an official "artist environment."
Smith had an idea he continues to pursue, wherein Gillam's Blues Museum would serve as the southernmost point on a destination tour, following a continuing "folk art corridor" that begins in Chicago, leads down through Memphis, and ends in New Orleans.
"The tour will connect the dots between all these various artist environments," explains Gillam, who began decorating his house in earnest for the impending visitors.
Gillam first leads guests into the Blues Room: From the walls protrude the molded cement faces of musicians from Lil Walter to Willie Dixon to James Booker (Booker's head, with its signature eye patch [Booker lost his eye to syphillis, Gillam says] also rises from the grass out front of the house). Another whole wall is dedicated to the women of blues from Ma Rainey to Eve Taylor.
In the second room guests are confronted with a pile of never-before-seen wood sculptures and flat paintings by artist Gregory Womack, best known for his work with bottlecaps (i.e. the bar at House of Blues). Gillam would not let this work be photographed.
"He died and left me all these pieces," says Gillam. "This was his last work, he as supposed to have it in a big show, but it never got featured. I am going to do a big thing at House of Blues with this."
Beside his Womack stash, Gillam displays photos of his own art: a walking stick he carved for Dr John; the iconic jazz men on the bar at Louisiana Pizza Kitchen outside the French Market. On the floor sits a carved and lacquered tree stump: "That's the tree stump they used to stash the drugs in!" Gillam laughs. "I tore it out around 2000 and made into this chair."
Gillam became part of the larger folk art world when the French Quarter House of Blues became serious about displaying outsider art in the early 90s. The music club purchased many of Gillams hand carved doors and other music-themed wood works, which put him in close proximity to all of the South's other semi-famous black "outsider" artists – many of whom Gillam now proudly displays throughout the rooms of his homemade museum.
In the far back Gillam keeps all the pieces given to him by his fellow artists. Most of them, Gillam claims, are the final works each artist made just before each one died.
There is Edward Butler's carving of Elijah Mohammed: "Butler was a murderer who went to prison, where he got heavily into the rodeo," Gillam explains. "He came out and began mentoring kids in art, but he never did sell one piece of his own." Gillam had kept the Mohammed portrait as collateral on a $1,000 loan to Butler, who died shortly after.
Nearby, Gillam proudly displays revered outsider artist Roy Ferdinand's supposed last pencil-and-marker drawing on poster board, depicting a "Last Supper" in the ghetto, with a pot-smoking cop playing Judas. Beside Ferdinand hangs another wood piece by Herbert Singleton, who first taught Gillam to carve, and gave him his first tools. Gillam tells the sad story of Singleton's perceived failure. "This was his last piece, ever," claims Gillam.
Gillam tells the story of how he gave artist Willie White a canvas board to customize, and White gave it back decorated only on the backside, the front side still clean white. Across the room a white metal easel displays a complete library of signed George Rodrigue books.
"I spotted this broken easel in his studio one day, and I asked if I could have it," says Gillam. "He told me 'I've made millions of dollars with the easel,' and he signed it and gave it to me."
On the way out vistitors pass works by successful living folk artist, Bruce Davenport, and shoe shine man Big Al Taplet's handpainted sign stating, "This church welcomes you and your shined shoes"
A 2014 visit to his Blues Museum by the entire NBA Allstars team featuring Kevin Durant raised Gillam's profile and helped Gillam keep his beautifully quirky museum alive through some small new grants. Otherwise the museum survives on visitor donations, and the money raised at Gillam's annual Algiers Folk Art Festival, which this October hosted a bevy of Louisiana visual artists and musicians including Little Freddie King.
Gillam appreciates a heads up phonecall if you'd like a tour (504- 261-6231), but that large bell does dangle welcomingly outside the screen door of his blue art-house for a reason.