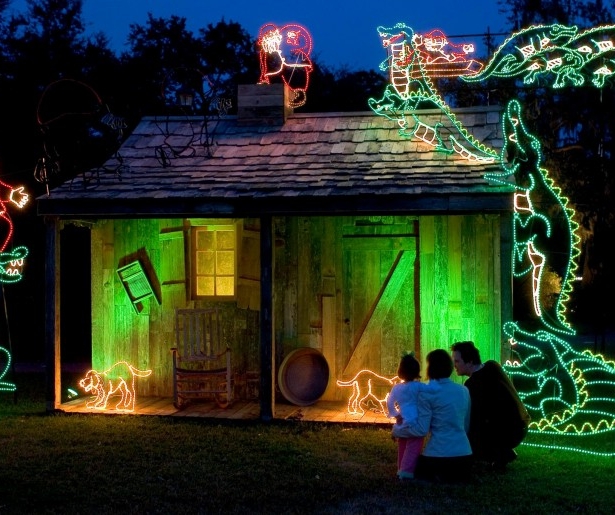 SHARE
If you're home in New Orleans for Thanksgiving and aren't sure what to do with yourself, or if you've stayed in the city for the holidays and need to get out of the kitchen/dining room/an uncomfortable conversation with Uncle Bill, who's had one too many, or if you're just bored, here's some stuff to do during Thanksgiving week.
Brennan's re-opens
Brennan's is one of the grande dames of New Orleans Creole cuisine. After a lengthy renovation of their iconic space at 417 Royal St (that's the old Rex Room pictured above, courtesy of Facebook), the restaurant is officially reopening on Nov 25, although dinner service does not being until Dec 5. Expect 10 pet turtles in the courtyard named for the French mother sauces, old favorites like Steak Diane, newer concepts like deconstructed Creole dining, and make your own sazerac bar, an idea so fabulous it should be copyrighted.
Christmas Lights
On November 25. New Orleans will officially turn on her Christmas lights. the Downtown Development District will flick on over a million lights on Canal Street at 5:30pm. at the same time, a Christmas Tree will be lit in Spanish Plaza.
Bayou Classic
One of the region's great football rivalries coems to a head on Thanksgiving Day, when Grambling takes on Southern University. But the competition is not limited to the gridiron – the Bayou Classic is as much, if not more so, a battle between these two schools' storied marching bands. If you've got some time to kill, check out some of the highlights from last year's battle below.

Although you need tickets for the game,the Bayou Classic parade is open to all, and rolls from the Superdome to the French Market at 3:30pm.
Celebration in the Oaks
From November 28 until Jan 3, City Park is decked out in a holiday light display that is the envy of the South. If you think this is a run of the mill Christmas lights on trees scenario, think again: the Celebration in the Oaks turns an entire slice of one of the prettiest parks in the country into a combination window into the deepest holiday nostalgia, and a color display at an EDM show. A must see event for families, or anyone, really; buy tickets here. Image above courtesy of Facebook.
Vegan Thanksgiving
We've provided a guide for how to put together a good old calorie laden, carnivore friendly New Orleans Thanksgiving here. But if you're of the vegan persuasion, check out the Vegan Thanksgiving Feast at Fatoush on Thanksgiving day; tickets are $25 and the meal starts at 1:30pm.