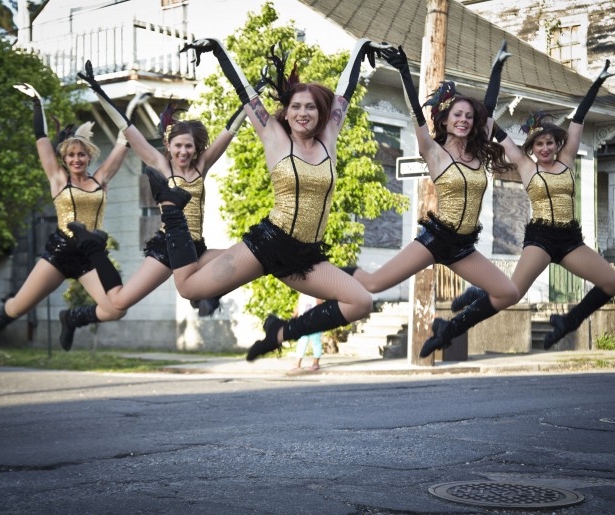 I am not the most objective author for this piece. I featured Gris Gris Strut in my musical travel book, New Orleans: the Underground Guide (LSU Press) with a glorious photo of Cherie Pitre and ten gold and black honies all leaping into the air together. I later asked Pitre to bring a truncated version of her dance troupe to the book's release party — but near the event's end she busted in through the club's front door followed by a huge ragtag Bywater brass band and her full cadre of dancers. The Gris Gris Strut filled the room with shiny bodies and legs and arms, all swinging to their brass version of the Jackson 5's, "I Want You Back."
By that time, the Gris Gris strut had begun incorporating into their band kids from the Bywater and Marigny neighborhoods. This year they are finally looking to expand and raise funds to broaden their inclusion of teens and pre-teens into Gris Gris Strut's dance and new flag teams as well.
The heart of the Gris Gris Strut, its dancers, performs in a style distinctly different from other similar, all-female Mardi Gras troupes. Pitre calls her signature hard-hitting, full body style, "forward-motion choreography."
"We do full choreographed routines," Pitre explains. "Most of the dancing krewes are doing eight-counts that they repeat over and over as they march. They may have seven or eight of them, and they're very upper body oriented, much more low impact — as it should be. But we are doing high impact dance routines with kicks and leaps and jumps. It's crazy."
Pitre adds, "I don't believe in a rest beat."

The Gris Gris Strut was born seven years ago via a commission from the Krewe of Thoth, who had admired Pitre's work as the leader of the Ninth Ward Marching Band's first dance troupe. "The Krewes of Thoth and Druid had been looking for me to start dance troupes for them. But basically Thoth created us. Thoth gave me three weeks to create the Gris Gris Strut troupe from scratch." This coming Mardi Gras, Gris Gris Strut will toss their signature "Gris Gris bag" throws to a soundtrack of Stevie Wonder and Sugarhill Gang, while marching with Thoth, Druids and Krewe d'etat, as well as Sparta and King Arthur.
This year's GGS dance ensemble will include18 professional dancers all versed in ballet leaps, jumps, high kicks and gymnastics. "The level of skill goes up every year," says Pitre. "And they have professional attitudes."
And now they're looking for some younger folks to join them. Gris Gris Strut and friends will perform from noon to 6 p.m. Saturday, Dec. 6, 2014 at Cafe Istanbul (2372 St. Claude Ave.) to raise funds and recruit members into its newly launched Gris Gris Strut Junior Corps program for dancers and musicians ages 12-17.
The GGS Junior Corps unofficially formed around pre-teen neighborhood brothers Frank and Taj, better known as the ragtag rock marching band The Bywater Boys, famous for practicing their music on Chartres St. outside of Elizabeth's Restaurant. "They kind of found us," Pitre chuckles. "Frank plays snare, and Taj plays cymbals. They've been in the band for three years now, and their parents come to the rehearsals."
Frank and Taj enlisted their friend Greshiren, who started out playing trombone with Gris Gris Strut's brass band, but Greshiren now plays the snare drum. Greshiren now plays snare in his school band, but his mother credits Gris Gris Strut with getting him that far. "He didn't know how to play anything," says his mother Charlene Caul. "He's been with them now since he was eight years old. He's 15 now. They taught him everything he knows. I didn't know he had that talent till he got with Gris Gris Strut."
Pitre's son Cypress plays bass drum to round out their four-part drum line. "We can't have enough programs for kids in this city," says Pitre, "But dancing with live music is in itself very rare. At the end of the parade you get to say, 'I just performed, backed by a live band, for a million people."
Pitre hopes that eventually, marching with Gris Gris Strut will qualify as the type of professional dance experience that would help kids get into NOCCA. "I believe we need to saturate this city with programs to elevate our youth, provide solid role models, and give them the opportunity to learn and grow their art," says Pitre.
No experience is necessary to sign up for the seven-week intensive training program, which starts in December. All young dancers will be taught one-on-one in a professional dance studio, while each musician in junior corps will work next to an adult musician. All the young dancers and musicians will be given the chance to march in at least one Mardi Gras parade. Youth sign-up forms for both dance and music will be available at the event and at www.grisgrisstrut.com
Gris Gris Strut Junior Corps Fundraiser Noon to 6 p.m. Saturday, Dec. 6, 2014 at Cafe Istanbul (2372 St. Claude Ave.). Featuring Blind Texas Marlin, Luke Allen, DJ Fayard, Gris Gris Strut and Dancing Man 504. Food and beverages by Atchafalaya. All inclusive tickets are $20 for adults and $10 for children at the door or advanced tickets of $15 adults and $7 for children are available by contacting grisgrisstrut@yahoo.com
Image by Zack Smith.