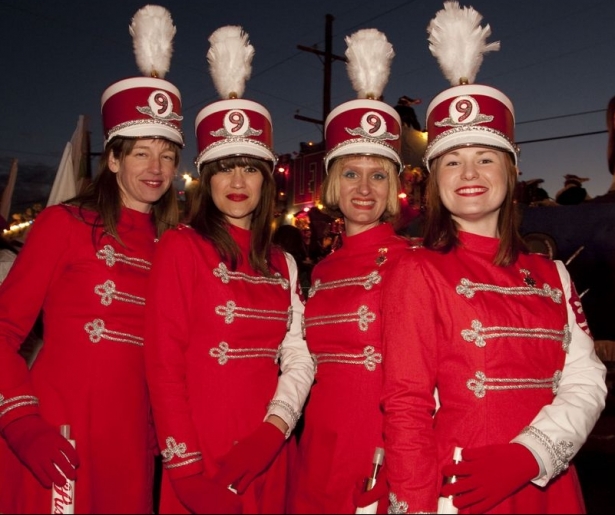 SHARE
There are dining traditions in this town. There are intricate, waltz-tempo affairs, requiring reservations and headgear. There's also an hour of the night/morning when it's known that Rally's drive-thru HAS to happen.There's Reveillon, crawfish boils, king cake, and Monday red beans and rice. There are rules and best practices. And then there's lunch. Everyday.
Living in New Orleans, we are afforded regular opportunities for stepping out in style. Between parades, balls, festivals, annual culinary events, and dinner parties, we barely have room for the standard calendar holidays celebrated by the rest of the country.
What I love about lunch here is that for no apparent reason, completely independent of our busy schedule of revelry, this midday meal can activate our need to dress up, gather, and imbibe. It's Wednesday, the weather is lovely, I haven't worn this dress for months, can easily lead to 5 lady friends descending on a courtyard, where pink drinks and bubbles will ensue. When I first moved here, I have to admit, I went a little weak in the knees when I first encountered the Ladies Who Lunch.
Despite my questionable status as "a Lady," I've since applied myself, with gusto, to this practice. To taking pause in the middle of a nondescript week, putting my hair up, applying some lipstick, calling some friends (boys are allowed in my version), and going out to lunch.
The uptown classics, Commander's Palace, Lilette, and La Petite Grocery, possess a charm and atmosphere that lends perfectly to the notion that you're doing something truly special for yourselves. All three restaurants have James Beard Award Nominated Chefs at the helm, and all three have a darling on the menu that you'll always be able to look forward to. At Commander's you can select from several options to build a two or three course meal, brought to you in flawlessly choreographed ballet service. There's the famous 25-cent martini's, the baked to order bread pudding soufflé, and one of the most dependably delicious gumbos in the city.
Similarly, Lilette has several standards on the menu. Leaning more towards French bistro cuisine, than the Creole classics found at Commander's, Chef John Harris has garnered a committed lunchtime crowd. The beet and goat cheese salad, Alaskan king crab claws, and shaved hearts of palm, are definitive first courses. To be followed by the Kobe burger, the pork belly BLT, or the daily preparation of black drum.
Just up the street on Magazine is La Petite Grocery. The bar is my favorite spot for a nice day, as the restaurant facade is window, and that busy stretch of Magazine is nearly hypnotizing to watch.The blue crab beignets are highly addictive, and I refuse to share. Chef Justin DeVillier has a good eye for using artisanal cheese in his dishes, pairing unique flavors in ways that really let the cheese shine. Rogue River Blue with apples and celeriac for example, a creamy, full-bodied blue, well balanced by the acid and earthiness of the other components.
Any afternoon set free in the French Quarter is bound to have its way with you, and thus, lunch here is one of my favorite ways to feel spoiled. Sipping a Ruby Slipper cocktail (pink drink!) in the Princess of Monaco courtyard at Café Amelie is unadulterated lunchery. The garden, resplendent with fountains and songbirds, the elegant cocktail menu, the succulent cochon du lait sandwich, works on me like a charm. I start abusing adjectives and sighing excessively. It's glorious, and hopefully entertaining for those stuck keeping me company.
Alternately, the hearty deliciousness and bric-a-brac decor of Elizabeth's, in the Bywater, lures my more robust appetites. I'm predictable here, and have often wished I had a substitute stomach to take the initial hit for me, of all the things I have to order every time or feel ashamed for neglecting them. Fried chicken livers with pepper jelly, and the fried green tomatoes with shrimp have never let me down.Then it's usually an eeny-meeny-miney-mo kind of process between the burger, the BLT, or the gumbo. There's also an entire Po-Boy section of the menu (served with one side) that I have yet to explore fully.
Pretty much any restaurant in New Orleans worth its weight serves a lunch menu. But these are the places I go, to slip into that special feeling that is elysian about living here. To engage with the peripheral mirth at the edges of each afternoon, enticing us to get dressed up and come out to play.
• Commander's Palace: 1403 Washington, Lunch 11:30-2:00 M-F, ($16-32 per)
• Lilette: 3637 Magazine, Lunch 11:30-2:00 T-F, ($8-24 per)
• La Petite Grocery: 4238 Magazine, Lunch 11:30-2:30 T-F, ($9-18 per)
• Café Amelie: 912 Royal St, Lunch 11-4 W-F, ($8-14 per)
• Elizabeth's: 601 Gallier St, Lunch 11-2:30 T-F, ($5-13 per)
—Amie Marvel