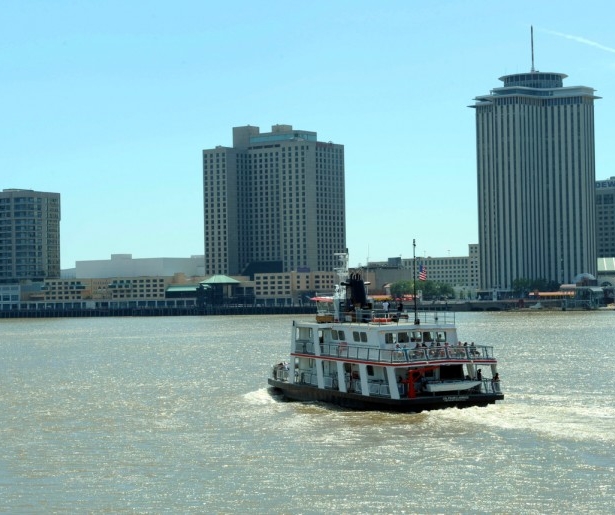 This weekend, Algiers Point hosts holiday events on both Friday and Saturday nights. Saturday night will be given over to the famous Algiers bonfires, which will be lit at 8:30pm at the Algiers Point Ferry Landing, with music beginning at 5pm.
But today, we're focusing on First Friday on the Point. A pub crawl/neighborhood get together/mini-festival of sorts, the monthly event encourages East Bank dwellers to to ride the ferry over and party at Algiers' Dry Dock Cafe, Crown and Anchor English Pub, the Vine and Dine wine bar, and the Old Point Bar, among other local businesses.
The Dec 5 holiday edition of First Fridays will feature live music at five different venues all within walking distance of each other, plus an Artist Market, several groups of neighborhood Christmas carolers, and a kids concert performed by Algiers Point's own Confetti Park Players band.
All this Algiers boostering has its roots in the West Bank's sense of isolation from the city. To understand First Friday on the Point, it's important to understand the relationship between Algiers, the Mississippi and the ferry that crosses the river.
The Algiers ferry opened as a public service in 1827. For almost 170 years, the ferry was funded by tax payer dollars, until in 1994 it was decided the ferry would draw funding from temporary tolls collected on the Crescent City Connection bridge – despite the fact bridge tolls were set to expire in 2012.
In 2013, the citizens of Orleans Parish defeated, by an almost 80-percent margin, government attempt to continue the bridge tolls beyond the initially agreed upon date. Locals spoke loud and clear: they wanted their tax money to pay for their ferry once again, as it almost always had.
Still, neither the city or the state could figure out how to budget for the ferry, and thus, the service was privatized; given over to the French-owned Veolia Company, which runs RTA. A smaller ferry was installed, which could not carry cars across the river. That ferry's hours were also drastically cut, and a new fee of $2 each way was tacked on for pedestrians – event though, like most services meant to be public, the ferry couldn't pay for itself if they raised the fee to ten times that amount.
This new largely ornamental ferry dealt a huge blow to the economy and culture of New Orleans' second oldest neighborhood, Algiers Point.
The Point has traditionally been sort of a secret music destination. It currently hosts two guitar shops, one record store, and is home to musicians including Theresa Andersson, Susan Cowsill, and Afghan Whigs guitarist Dave Rosser among many others. But lesser known musicians are having a hard time living and working in Algiers.
Tim Stambaugh has owned Word of Mouth recording studio in Algiers Point since 1995, and while he doesn't think he's lost business per se, the truncated ferry hours have made recording harder for his musician clients.
"This is kind of do it yourself studio," explains Stanbaugh. "I serve people who are probably struggling with their career…and so CD sales are a big part of making up the deficit. Having an easy way to get to the studio is a must. Many of the musicians don't have cars, and because of the popularity of the Bywater and Marigny for living space for [musicians] you're seeing a generation of bicycle enthusiasts who…take their instruments onto their bikes to their gigs…"
The Old Point Bar in Algiers once hosted high profile acts, from Bonarama to New Orleans Nightcrawlers, to Jesse Moore. Those acts have slacked off since the ferry's hours were shortened, which means bands must drive to the venue. When asked why said bands don't want to drive over, the Old Point Bar's nightshift bartender Jill Chaffee addresses the elephant in the room: "They don't want to get a DUI! … Taking a cab costs $25 to get over and $25 back; $50 out of your night right there. To go out two nights a week, that's $100 in travel."
More recently though, Veolia decided to give ferry rides back a small fraction of the freedom and mobility their tax dollars formerly provided. Though the boat still doesn't transport cars, the ferry's hours (which once stretched past midnight seven nights a week) have recently been increased to 10pm on weeknights, and 8pm on Saturdays. For the beleaguered citizens of Algiers Point, even this small concession has been reason to celebrate.
And so, the First Fridays on the Point music and drinking series began in September 2014 to help Algiers businesses hurt by the ferry's truncated hours and abilities. A pub crawl of sorts, First Fridays encourages East Bank dwellers to ride the ferry over and party at Algiers' Dry Dock Cafe, Crown and Anchor English Pub, the Vine and Dine wine bar, and the Old Point Bar, among other local businesses.
Along with holiday-themed drinks like hot buttered rum, mulled cider, spiked egg nog and Irish coffees, The Dry Dock Cafe and the Old Point will offer one-dollar drafts of Miller Lite and PBR drafts at the Old Point Bar, while Vine and Dine offers three-dollar glasses of wine. NOLA Brewing will host a private cask of home brew at the Crown and Anchor.
"The November event had a fantastic turn-out!" says Michael Verderosa who helps plan and promote First Fridays. "Not only did Algiers Point neighbors come out, we had a huge outpouring of visitors from the East Bank, who came over via the ferry… Not only did they seem to enjoy walking the few blocks between our neighborhood corner bars, but many commented on how enamored they were with our glorious historic architecture, the friendliness of the neighbors and business owner/workers, and the unbeatable view of the NOLA skyline from our newly paved bike path on the levee."
First Fridays has proven extremely popular and a monthly boon to local businesses in Algiers Point. Still, Jill at the Old Point Bar points out in regards to the ferry, "Algiers is still New Orleans. We are part of the city. We still pay New Orleans taxes… Even Cinderella got until midnight."
Image courtesy of Cheryl Gerber.