POSTED Mon. Dec 8, 2014
Holiday Events in New Orleans This Week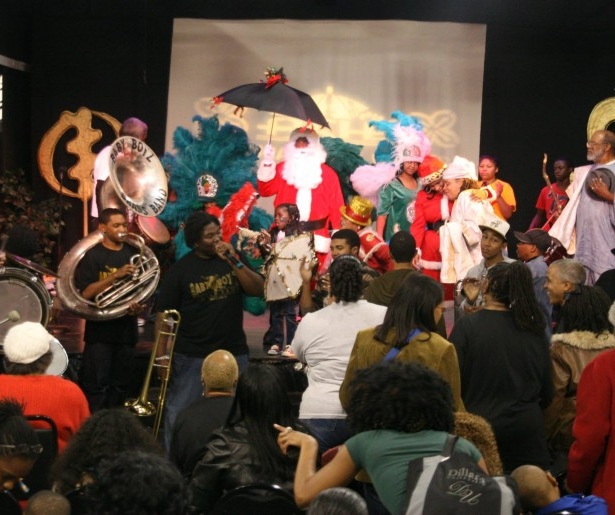 SHARE
It's Christmas in New Orleans, and the holiday-themed events are flowing fast and furious. Here's some stuff happening this week. Cover image courtesy of Ashe CAC.
1 A Christmas Story
The holiday classic (remember? Ralphie, embarrassing costumes, kids getting their tongues stuck on metal poles) screens at the Theatres at Canal Place on Dec 9th & 10th at 7:30pm.
2 17 Strings at Snug Harbor
New Orleans musician Phil deGruy will present 'The 17 Strings of Christmas", a jazz distillation of holiday music, at Snug Harbor on Frenchmen St on Dec 9, at 8pm and 10pm. Phil is known for playing the 'guitarp', a combination guitar-harp with 17 strings, so you're getting a local take on Christmas music and a chance to hear a unique instrument all at once.
3 Prytania Theater
Can't…stop…the classic Christmas movies. Holiday Inn, which has nothing to do with a mid-range hotel chain and everything to do with snazzy song and dance numbers performed by Bing Crosby and Fred Astaire, plays at the Prytania at noon on Dec 10th.
4 Latke Bar at Bellocq
Probably the most delicious food of the holiday season comes from the Jewish faith. Latkes, or potato pancakes, consist of shredded potatoes, onions, frying oil and tons of delicious-ness. Bellocq is hosting a latke night on Dec 11th, from 8-11pm, wth drinks, a silent auction, music by Mark Rubin & His Fellow Travelers and of course, a latke bar.
5 Holiday on the Boulevard
Head to Central City and O.C. Haley Boulevard at 10am on Dec 12th, and from noon til 8pm on Dec 13th, for a neighborhood holiday party that features kids' African cultural activities, a gift market, fashion show, live music and the usual New Orleans' cornucopia of good times. More details at Ashe.
6 Imagination Movers and Christmas In The District.
The New Orleans-based children's group, the Imagination Movers, will perform a special Christmas-themed show at NOLA ChristmasFest on Dec 13th at 12:30 pm at the New Orleans Ernest N. Morial Convention Center. Tickets can be purchased in advance at christmasinthedistrict.com or at the door. The event is put on as part of Christmas In The District, a 13-day holiday celebration which begins on Dec 12th that decks out the Central Business District in tons of lights, decorations and general holiday good vibes.
7 Santa Paws NOLA
Pets in holiday costumes are always a big win. Santa Paws NOLA, held on Dec 14th at Lafayette Square, will feature a second line (4pm) and holiday-themed pet costume contest (4:45pm), as well as activities for pet owners, information on pet adoption processes and free refreshments. Register at www.santapawsnola2014.eventbrite.com.