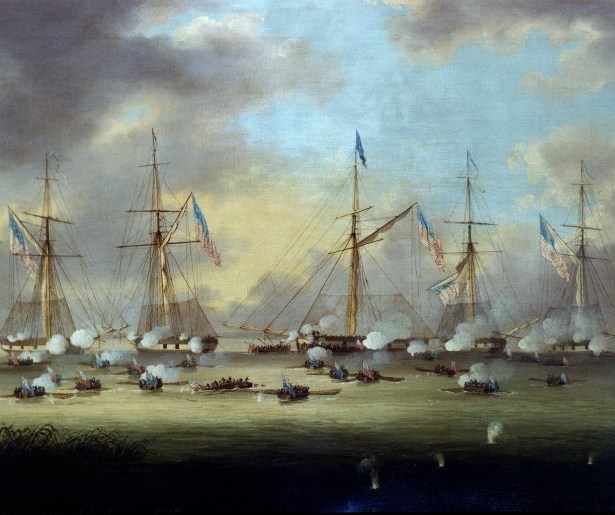 SHARE
With 2015 fast approaching, South Louisiana is gearing up for the January 8th bicentennial of the Battle of New Orleans, the final melee of the War of 1812. But before that date approaches, Fort Pike State Historic Site is celebrating the double century anniversary of a lesser known clash: The Battle of Lake Borgne.
The engagement was a naval brawl between the British Royal Navy and the US, and occurred on December 14, 1814 on Lake Borgne. The British Navy, seeking a route to New Orleans, sent 42 armed boats onto the lake, which was patrolled by five American gunships and two sloops-of-war. The British rowed their boats to the American blockade under withering fire and proceeded to board and seize the opposing craft.
There's several reasons you've likely never heard of the Battle of Lake Borgne, while the Battle of New Orleans is the subject of songs, artwork and for a long time, it's own holiday. In contrast, the Battle of Lake Bogrne was a relatively small fight that was essentially a run up to the main event at Battle of New Orleans.
It was also a military defeat for the United States. While the outnumbered Americans were able to delay the British Navy, all of the American ships in the defensive patrol were captured, bar one sloop, which was scuttled. The American gun schooner Sea Horse, on a mission to destroy a powder magazine at Bay St. Louis in order to prevent its capture by the Royal Navy, also engaged some of the British fleet, but was eventually burned to prevent its capture.
This might all seem like so many historical small potatoes 200 years after the fact, but New Orleanians found out Lake Borgne had been taken by the British, they collectively lost their cool. The state of panic was such that Andrew Jackson imposed martial law on the city.
The Fort Pike commemoration of the battle will include reenactments and cooking demonstrations, and lasts from Dec 11-13th, from 9am-5pm on all three days. Call 985-255-9171 or 888-662-5703 for details.
Also in the vein of US naval history, there will be a lecture on the role of privateers at the Old US Mint on Dec 11 at 6pm; admission is free.
Image: "The Battle of Lake Borgne" by Thomas Lyle Hornbrook, courtesy of Wikipedia. For more images from the battle, visit The Historic New Orleans Collection.