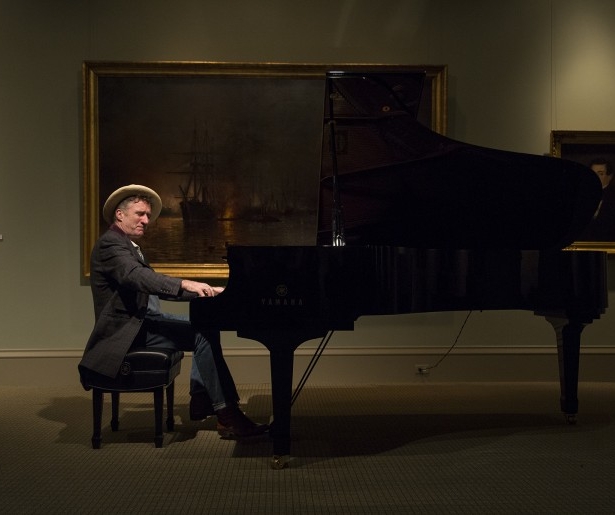 SHARE
When you walk into MirrorFugue, a new art/technology/piano installation at The Williams Research Center of The Historic New Orleans Collection, it takes a few moments to catch your bearings. Against one wall, videos of three famous local pianists are projected onto a screen, all of them sitting patiently as if waiting to perform.
On the adjacent wall, the visage of legendary New Orleans musician Jon Cleary is projected onto a screen atop a gorgeous player piano, while his hands are projected onto the keys, creating the semblance that he's performing the song Tipitina.

Jon Cleary on MirrorFugue – Tipitina from Xiao Xiao on Vimeo.
Once Cleary finishes, he takes a seat beside the other virtual pianists, and then the next performer settles into the projected spot at the piano to play their own tune.
The whole endeavor is like an interactive piano recital with holographic performers, and it's mesmerizing.
The Prospect 3+ exhibition, spearheaded by New Orleans artist Xiao Xiao's (pronounced Sh-owh, Sh-owh), explores technology's ever-expanding role in the modern-day listening experience. P3+ functions as a satellite program of Prospect 3, "highlighting and promoting concurrent exhibitions and arts events put on by local artists throughout the course of the biennial," according to the P3 website.
Xiao is both an artist and a technologist. She builds and designs interactions with computers that are inspired by human nature's innate connection to music. At the MirrorFugue installation's opening on Dec 10th, Xiao emphasized the importance of innovation in both the arts and technology, suggesting that a convergence of past and present practices can lead society to new kinds of impactful, artistic, and musical experiences.
The exhibit would not have been possible without a serendipitous encounter between Xiao and longtime New Orleans arts and education benefactor, Phyllis Taylor. The two met on a bus at The Aspen Ideas Festival a few years ago and got to talking, and that's when Xiao began to recognize Ms. Taylor's accent.
"I asked her where she was from," Xiao said. "And when she said New Orleans, I said, 'I grew up there.'" Xiao was born in China but moved to the city at age 8. She graduated from Newman, and is currently pursuing her doctorate at the MIT Media Lab in Boston.
A friendship was born, and with Ms. Taylor's help, along with Prospect 3, THNOC, and countless others, Xiao's MirrorFugue idea was brought to New Orleans, where she collaborated with four acclaimed New Orleans pianists: Allen Toussaint, Jon Cleary, Ron Markham, and Nick Sanders. Each artist's virtual doppelganger plays songs that relate to New Orleans from various times in the city's history.
At last night's opening, Mr. Cleary performed live as well, taking audience-members on a tour of the historical musical styles of New Orleans, from the "Junkers Blues" genre to the Cuban-influenced Habanero. He even played a brief duet with Xiao, but this time neither of them was a virtual projection.
By far though, the coolest part of the MirrorFugue exhibit is that you can physically sit at the player piano installation and play along with Toussaint, Cleary, and the others as their hands are projected onto the player-piano keys right in front of you. It's like playing a duet with a hologram of a famous musician, and it's an incredible, surreal experience.
The MirrorFugue installation by Xiao Xiao runs 9:30am to 4:30pm, Tuesday to Saturday, December 10th-20th, 2014, at 400 Chartres Street. For more information, visit here. And for a better visualization of Xiao's concept, check out her beautiful Conversations with my Reflection video.
Image courtesy of The Historic New Orleans Collection.