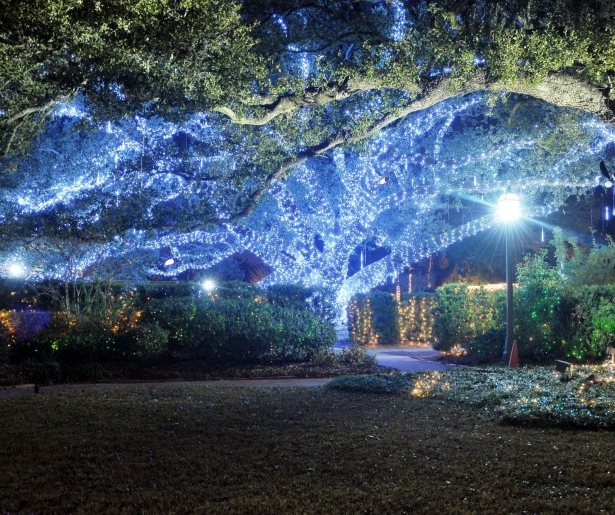 SHARE
Of all the many events that define the holidays in New Orleans, Celebration in the Oaks, the holiday light extravaganza put on by City Park, may be the most iconic and impressive. Hundreds of thousands of lights blanket an incredible 25 acres of park land.
And for all that, it's refreshingly tasteful. Let's be honest: big Christmas light displays can sometimes be too tacky on the one hand, or take themselves too seriously on the other. Celebration in the Oaks manages to strike an enjoyable 'just right' note between those two poles. There are dangling doves and neon candles that hint at the reverence behind the season, but there's a also a giant lit up alligator and the exaggerated accents at the Cajun Night Before Christmas Display.

So get ye to the Celebration, which lasts until Jan 3! But get ye in a taxi or on a bicycle, if ye can. The one drawback to Celebration in the Oaks is that it gets pretty crowded, especially on weekends, when folks day trip in from other parts of the state. I've personally experienced (and friends have corroborated) 15 minute waits just to get into the parking areas of City Park, let alone dealing with parking itself.
Finally, if you'd like to explore a little ways outside of City Park, head to the adjacent Bayou St John/Esplanade Ridge area. This is one of the most charming parts of the city for a stroll, and we wrote a mini guide to the neighborhood here.
Image courtesy of City Park.