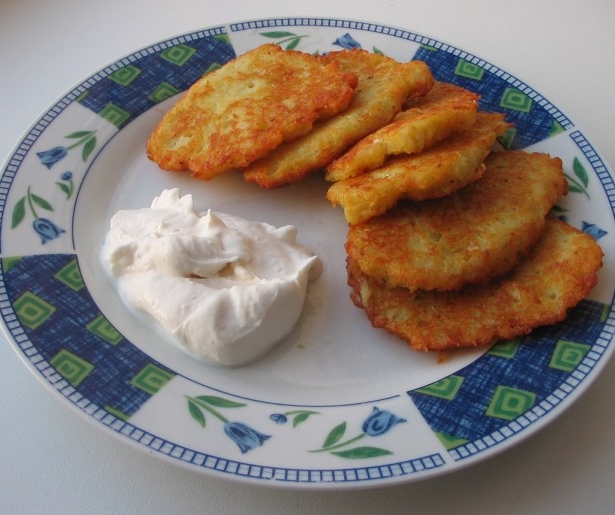 SHARE
This week marks the beginning of the Jewish holiday of Hanukkah, and the small but active Jewish community of Greater New Orleans is celebrating the festival of lights as New Orleanians do: with food, music and fellowship.
With that said, there will be appropriate amounts of reverence as well. Hanukkah, contrary to the perception of many gentiles, is a relatively minor holiday within the Jewish calendar, its seeming prominence a function of it occurring in the same neighborhood of Christmas. But it's still a holiday, one that commemorates a religious miracle – the sustained burn of a limited supply of temple oil for eight days – and Jewish nationhood – the successful resistance of the Jewish Maccabee army against the Seleucid Empire.
The long burning candles have come to symbolize endurance and perseverance, qualities Jewish New Orleanians have cultivated, as evidenced by the below.

That long burning candle oil is the reason Hanukkah lasts eight days and nights, and that extended holiday period is the reason there are several Hanukkah events kicking off in New Orleans over the next week.
On Dec 16, the city's Grand Menorah Lighting will occur at Spanish Plaza at 5:30pm; Israeli musician Yoel Sharabi will perform, and there will be face painting, dreidel spinning and a hot latke bar.
Latkes, for the record, are Jewish potato pancakes, and they're delicious. They're also pretty easy to enjoy, even for a conservative palette (it's hard not to love salty potatoes fried in oil). John Besh provides a nice recipe for them here, and there will be a latke cook off with a yet-unnamed celebrity chef at the Uptown Chabad (7037 Freret St( on Dec 18, at 7pm.
In addition, Israeli-American chef Alon Shaya of Domenica is serving up a four-course Hanukkah-themed menu from Dec 16-24; za'atar fried chicken and a sugar donut with hot espresso fudge? Sign us up. More details here.
There will be a service and menorah lighting at Touro Synagouge at 6pm on Dec 19, and on Dec 20, Chanukah in the Quarter, put on by the Jewish federation of New Orleans. You can buy the $10 tickets at the above link; the event will be a mixer-y, cocktail friendly get together, and half of the proceeds go to Second Harvest Food Bank
One final bit of New Orleans Hanukkah related trivia: there is, of course, a New Orleans bounce version of the dreidel song. I'm not going to embed it here, because we're family friendly and that video, as bounce videos are wont to be, is a bit NSFW, but search it up online, and enjoy watching Gypsyphonic Disko and Katey Red twerk it, kosher style.
Image courtesy of Wikipedia.