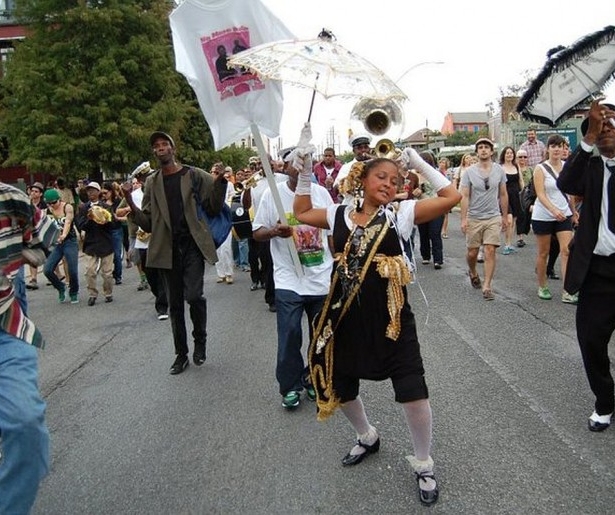 SHARE
The brass music of New Orleans has been getting a ton of attention, exposure and recognition as of late. Trombone Shorty featured heavily on the Foo Fighters' Sonic Highways and played at the Grammy's, and speaking of the Grammy's, Rebirth won one of those coveted awards for Best Regional Roots Album. And just last month, WWOZ held the first Brass Menagerie.
The point being, somewhere along the line, New Orleans brass went from being a regional thing to a nationally recognized and beloved institution. This has happened before, of course (see: the history of jazz), but it's fair to say the traditional music of New Orleans was, for a period, unfairly seen as a localized as opposed to mass appeal genre.
Yes: the music is local, but it's genesis comes from waves of immigration – a cosmopolitan set of roots – and the intense influence of Louisiana's cultural and physical soil – a deeply indigenous force. This combination of currents is complex and fascinating to explore, as is the musical styles it has yielded.
To that end, Press Street publishing and the Neighborhood Story project are releasing Talk that Music Talk: Passing on Brass Band Music in New Orleans the Traditional Way, a folk and oral history of the street music traditions of New Orleans that have been the source of the city's greatest sounds.
The work is the product of research conducted by Bruce "Sunpie" Barnes, a ranger with the New Orleans Jazz National Historical Park and member of the North Side Skull &Bone Gang, and Rachel Breunlin, co-director of the Neighborhood Story Project. Together, these two vanguards of local culture have produced a book peppered with documents, interviews and pages of historical photographs.
There's going to be a release party for the book at the Mint on Dec 17, from 7-9pm. The party will feature music by Treme Brass Band, New Wave Brass Band, Original Royal Players, Storyville Stompers, New Orleans Young Traditional Brass Band, and All Around Brass Band with the Black Men of Labor Social Aid and Pleasure Club. The event is free and open to the public.
Image courtesy of the Backstreet Cultural Museum.