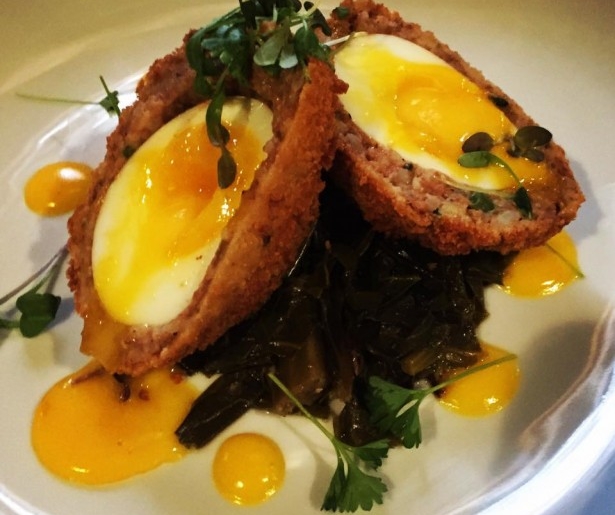 SHARE
For years, the Bombay Club was an outpost of tweedy, classical British sensibility in the French Quarter, a spot for cigars, mahogany and scotch as opposed to straight up Bourbon Street shenanigans.
The Club, which reopened on Dec 16 after a change of management and subsequent refurbishment, still evokes the Old World. From what we've seen, it remains a place for smooth brown liquor and leather furniture. But the new Bombay Club adds heavy doses of Louisiana flavor to a spot steeped in British Colonial aesthetics.
Essentially, the old school British trappings have been mixed with Cajun attitude. Chef Nathan Richard, a rising star who has worked with Donald Link, Tory McPhail and Sean Brock, and formerly was behind the charcuterie at Restaurant Revolution, is running the kitchen and is responsible for the Club's new direction.
The chef, raised in Thibodeaux, takes the Club's old British elements to Cajun Country and back again. Hence: alligator sausage, boudin scotch egg (see above)and a cracklin' crusted fish & chips, which just sounds too good to be true.
Not the case though – it is true, and waiting to be sampled. The Bombay Club is now open for business. Check it out in the French Quarter, at 830 Conti St in the Prince Conti Hotel
Image courtesy of the Bombay Club