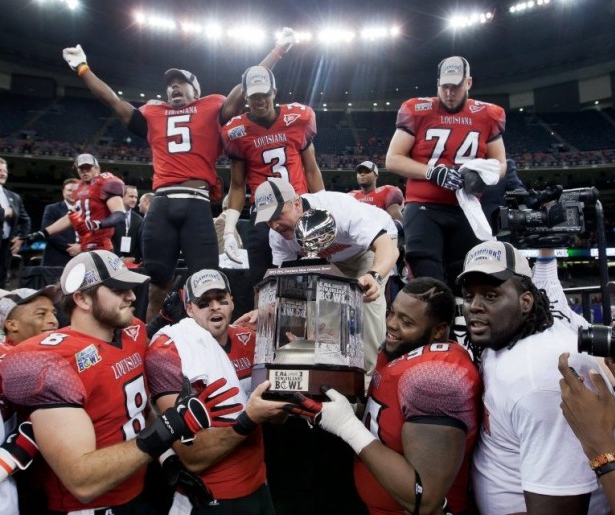 SHARE
When it comes to bowl games in New Orleans, most folks associate this city with sugar – specifically, the All-State Sugar Bowl, which is played on the first day of the new year.
But there's another bowl game associated with this city, a bowl game that doesn't get a ton of coverage in the grand scheme of college football, but a big deal to folks in Louisiana. This other New Orleans bowl is, whaddya know, the New Orleans Bowl, and it's happening Dec 20, at 10am CST at the Superdome.
The match is between the Sun Belt and Mountain West conference, and for the past three years, the University of Louisiana at Lafayette Ragin' Cajuns have walked away victorious; they beat Tulane last year, in one of the best attended non-BCS bowl games in the country.
This year, the Cajuns face the University of Nevada Wolf Pack. Both teams are coming into the contest with a lot of fire; the Wolf Pack beat Washington State earlier this year, while the Ragin' Cajuns have won their last seven games.
Even if you don't give a thin dime for college football, if you're in town this weekend, it may be worth wandering to the CBD to see some tailgating. Smaller bowl contests tend to attract real die hards, and on top of that, the Ragin' Cajuns have understandably created a lot of passion in the region; they'll basically have a home crowd supporting them this weekend.
And trust us – no one does home crowd like folks from Acadiana. There will be tailgating food the likes you have probably never seen as well as – I'm just making an educated guess here – a fair bit of booze consumption. Mainly, there will be a lot of fervent local fandom for the University of Louisiana at Lafayette, a school that is often overshadowed by LSU in terms of state sports fandom.
Oh: and Kool & the Gang and Cheap Trick are playing a free concert on Dec 19 at the Smoothie King Center.
So to recap: passionate Cajuns, cold beer, renditions of 'Celebration' and 'I Want You To Want Me' (fingers crossed), and likely, a lot of boudin. Sounds like a good weekend to us.
Image courtesy of The New Orleans Bowl.