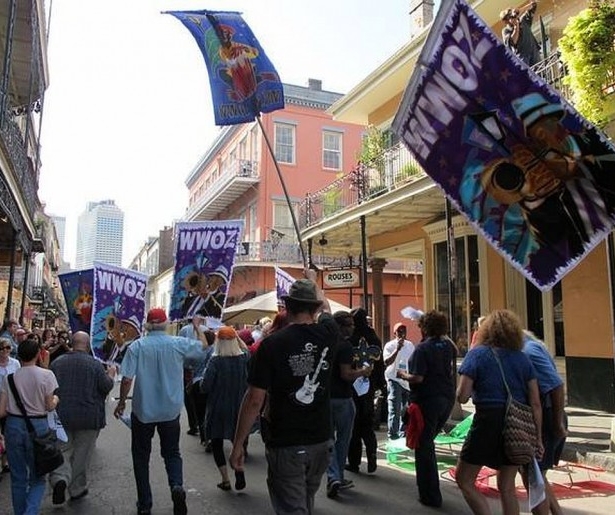 SHARE
On Dec 4, 1980, a little radio station with the call letters 'WWOZ' began broadcasting out of a basement in Bridge City, LA. The station's mission? To be a community radio station for the city of New Orleans, a guardian and ambassador of the culture of the most unique urban enclave in the country.
The brothers Brock – Walter and Jerry, from Texas – founders of the station, wanted listeners to focus on music, rather than iconic DJs, as was the trend in radio at the time. Hence, the call letters – 'OZ' was a reference to Oz (i.e. the Wizard of) and a line from that book, "Pay no attention to the man behind the curtain", was repurposed by the Brocks into a warning and admonishment to the audience. Personalities would not matter at the new radio station. What was important was New Orleans music.
One month and 34 years later, it's safe to say WWOZ has made the world a better place via the social good that is New Orleans music. And regarding that music, it's impossible to overstate the impact of the WWOZ brand. Whatever the curtain is, it's hard not to see behind it these days; while no one personality dominates WWOZ, WWOZ as an entity has a huge influence on the how the culture of New Orleans is brought to the rest of the world.
This weekend, WWOZ and Tipitina's are hosting Behind the Curtain, a 34th birthday party for the greatest radio station in the universe. Here's the really cool bit: the party is broken into three sections, which reflect the three life stages of WWOZ thus far.
No, not childhood, adolescence and adulthood: Tipitina's, Armstrong Park and the French Market, the three respective headquarters and three respective 'eras' of OZ.
There will, of course, be music: Davell Crawford, Ivan Neville and DJ Soul Sister to be exact. And there will be time to reflect on what makes WWOZ, and perhaps by extension, the city whose culture it represents, so very fascinating. Tickets are $21; for more information, check out WWOZ.
Image courtesy of WWOZ.