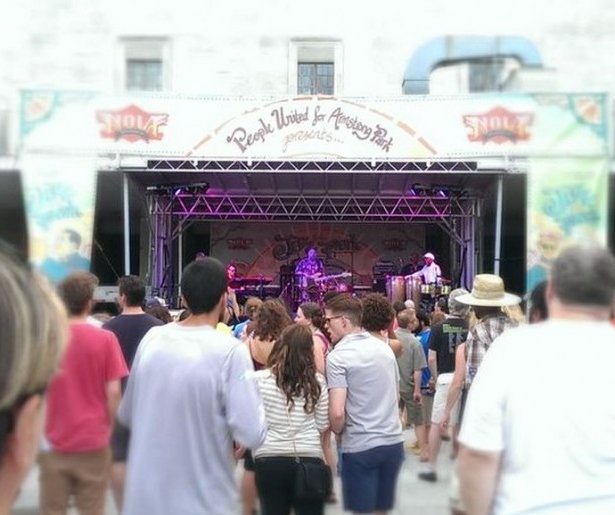 SHARE
"Would you please take a picture of me and my husband? Be sure to get that stage in the background!"
James and Leanne posed, all beaming faces, two cocktails in. Behind them, Colin Lake and his band played some crowd-friendly gospel. The couple were down for a few days from Boston, MA.
"We love it here," said Leanne. "Always something happening in New Orleans."
This is true even as the city saunters stickily towards the relative sloth of the summer season. In a city of increasing pop-ups (restaurants, galleries, cocktail bars), Jazz in the Park is a pop-up festival of sorts, albeit one that runs every Thursday for nine weeks.
The park in question is Armstrong Park, and there's little doubt that Satchmo himself would approve of this lively, free celebration of New Orleans music. The series is now in its third successful semester, its first summer incarnation after winning fall and winter programs. It already feels like a city institution, this time ushering us joyously from the frenzy of festival season into slower, sultry days.
It's 5pm and first act Colin Lake is assuring the crowd. There's around 100 or so up near the stage and several hundred others doing some concerted basking in their fold-put chairs. "I'm not from here," he says. "But I came to New Orleans as soon as I could."
Satisfied, the mixed crowd grace him with their attention and dance. Preppy Uptowners sway next to bohemian Quarter rats, and hip kids in ironic pop art t-shirts step around elegant old ladies who could be on their way to church. It's the kind of social gumbo that this city does best.
Aside from the music, there is, of course, a healthy smattering of food stalls. The smells of the season, from boiled crawfish to smoky barbecue, fill the air. Locals and visitors sip cold beer from plastic cups. It really does feel like an intimate, spontaneous microcosm of Jazz Fest.
Over the nine weeks, 18 excellent bands keep the series moving forward, culminating in local hero Kermit Ruffins on June 13th. Better get here early for that one.
Meanwhile, the stalls are doing a healthy trade, everything from local art to leather goods to well known city brands such as Fleurty Girl t-shirts. It must be a rewarding sight for the organizers, People United for Armstrong Park (PUFAP), filling the place with life and music when it would normally just be a couple of dog walkers and people sleeping off their day drinking.
"The crowds just keep getting bigger," says Emanuel Lain, co-founder (with Ben Harwood) of PUFAP. "We just keep expanding. We added a second line this semester, which ends up going up on the stage before our main acts. Next year we'll create an art village in Congo Square and have a second stage there with lighter jazz music."
Lain is more laid back than his ambition would suggest. The average crowd is now around 3,000. You could call it a success.
In the end I had to retake the photo of James and Leanne. I didn't get her booty shorts in the frame the first time, and she insisted she wanted her friends in Boston to see just how she was rolling down here. Satisfied, they shimmied into the fray.
As the sun goes down, headline musicians George Porter Jr. and Bill Summers salute the crowd, now at a few hundred in front of the stage. "We finished three minutes early," Porter says.
"We're going to improvise. Could you help us out, New Orleans?"
The crowd happily oblige, and chant the refrain from the band's last song, the concert ending communally, all smiles, a little more than two cocktails in.