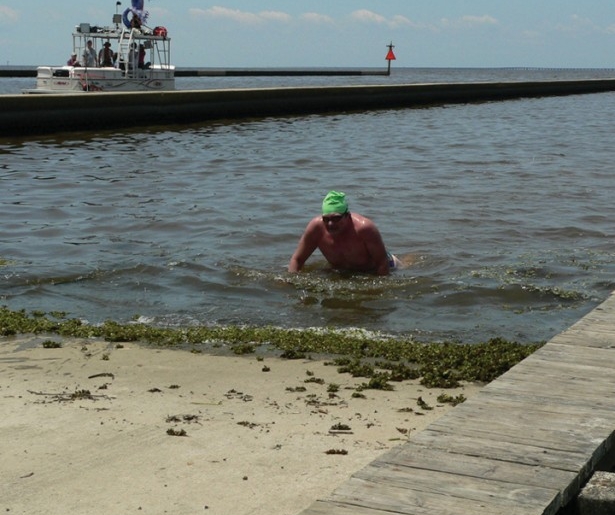 Wednesday night turned into Thursday morning on June 12th as Matthew Moseley continued swimming toward the Mandeville bank of Lake Pontchartrain. In between, on either side of sunset, upon the support boat, a band led by Papa Mali churned out a blues soundtrack for the 47-year-old Moseley, who would soon join a short list of swimmers to ever cross all of the lake's 25 miles.
Moseley grew up in Lafayette, a member of his high school swimming team. After college he worked at Commander's Palace restaurant for a number of years. He currently lives in Boulder, Colorado, where he helms the communications and media firm that served as family spokesperson at gonzo writer Hunter Thompson's funeral. Moseley still regularly visits New Orleans to see family and friends. And to swim Lake Pontchartrain.
"When I was here for Jazz Fest in 2006, we heard that the lake had been cleaned up by the Lake Pontchartrain Basin Foundation (LPBF)," remembers Moseley, "and we said 'Let's go swim.' We swam ten miles, with my good friend Coco Robicheaux in the support boat." Robicheaux though, did not play music, says Moseley: "He was making Bloody Marys out of Pontchartrain water."
For 20 years, Moseley has competed in open-water races worldwide. "Pontchartrain poses unique challenges," he says. "It's one of the world's largest estuaries, meaning it's very shallow—so the turbulence is magnified. Others who've tried to swim it have had to pull out at some point because of the chop."
In 2012, Moseley started on the Northshore and swam halfway across Lake Pontchartrain, at which point his cousin Glynde Mangum swam the other half. "That's when I learned what it would really take to swim the whole lake," says Moseley. "It took me a couple years after that to really formulate and put it all together."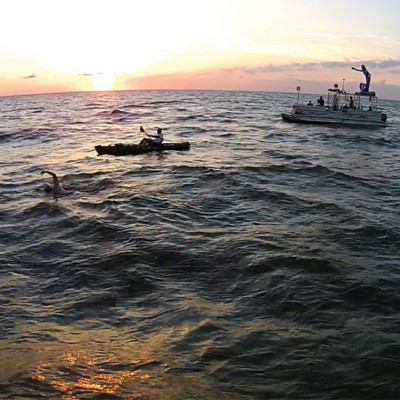 Moseley's pursuit grew more serious with direct support from the LPBF. He also met WWOZ radio DJ, reporter and filmmaker George Ingmire at Burning Man in 2013, and knew Ingmire could help add the musical component Moseley hoped for. "I wanted Coco to do the music but he passed away," says Moseley. "I wanted blues. Deep, a little richer. George put me in touch with Papa Mali, who we paired with David Amran who, at 84 years old played for 14 hours on a 35-foot party barge through the night!" The trio was rounded out by Afred "Uganda" Roberts, percussionist to Professor Longhair and the Wild Magnolias.
Papa Mali himself called providing a live soundtrack to Moseley's swim across the lake an "inspiring" and "amazing" event. "I've had a lot of interesting experiences and this certainly ranks among them," says Papa Mali, who jammed with his bandmates for the last several hours of Moseley's journey, from 8am to about noon. "There were a few songs I knew I wanted to play but I was definitely inspired by the moment. A lot was improvised. We just dug into the mood that already existed. It was great to be part of something that felt so important."
When asked if he could hear the music while swimming, Moseley admits, "Not really. Though David Amran wrote a song called 'Dancing in the Water,' and at one point he yelled out 'Matty here's that song I wrote for you! You gotta listen to this!' And I soaked that in."
Matt is now better able to hear that music in Wayne Ewing's film Dancing in the Water, which documents Moseley's pioneering swim across the lake. "In the movie we also take tours of the Lake Pontchartrain basin, to show its recovery," says Mosely. "Even my mom had been like, 'You're crazy for even sticking a toe in that water,' because she remembers when the lake was closed down, and borderline toxic. But the lake is clean now, and its thriving."
The lake was healthy enough during Moseley's swim that wildlife became a concern. "Once you get out there a little bit it's not too bad but around the shores…" Not only did Moseley cross the lake in a year when bull sharks have been plentiful, but, "they pulled out an alligator about forty minutes before I got to the boat ramp at the Pontchartrain Yacht Club."
But Moseley speaks of these natural predators with pride; he's happy they're around. "Dancing in the Water is really about the lake's recovery over the last 25 years," admits Moseley. "And it has a kickass soundtrack. With a little bit of swimming."