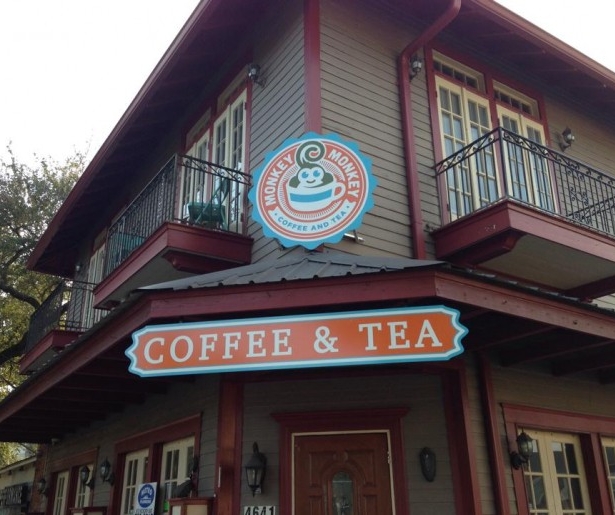 SHARE
This past Saturday afternoon, Monkey Monkey Coffee and Tea (4641 S. Carrollton), a new coffee shop in Mid-City, had its grand opening. Lucky guests were treated to pastry and sandwich tastings, as well as free coffee drinks and other specials. The new cafe is bright and spacious, with colorful chairs, large windows, and a fun monkey-in-a-coffee-cop logo.
"I should probably come up with a cooler story about where the name came from," said Ryan Dempsey, the shop's owner. "But really we just liked the sound of it and thought it would be fun."
Mr. Dempsey worked for years in restaurants and as a middle-school teacher before deciding to use his service-industry knowledge to open up his own place. He bought the property on S. Carrollton, which used to be a hookah bar, in May 2014. After six months of renovations he quietly opened Monkey Monkey just before the new year on December 18th.
The shop serves coffee and tea drinks, as well as breakfast and lunch. "We make almost everything from scratch," said Mr. Dempsey. The multifaceted environment lends itself to studying, working individually, having meetings, or casually lounging. There's a couch, tables of various sizes, and Mr. Dempsey has plans to build a bar along one of the walls for additional seating.
"We're excited to be in the neighborhood," said Mr. Dempsey. Monkey Monkey is open 6am-6pm Monday through Friday and 7am-7pm on Saturday and Sunday. For more information, check out their Facebook page.
Image courtesy of Facebook.