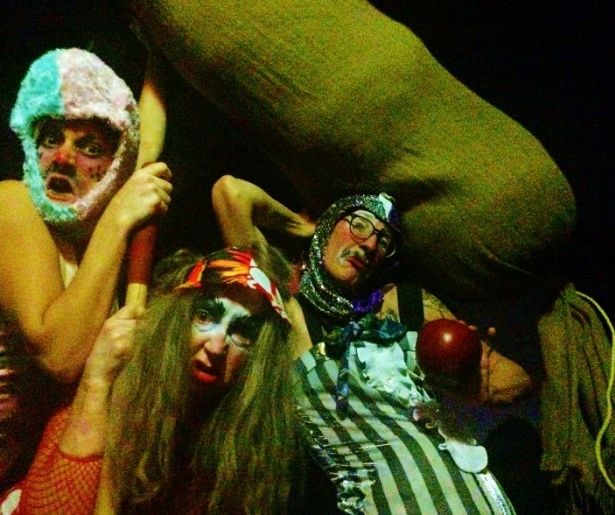 Nari Tomassetti is a clown. Hearing that will not upset her, for she is the real thing. Though she began her clowning career working for Ringling Brothers, and has written and created local plays such as "Shanghai the Musical" and "Welcome to Desire," Tomassetti is best known for running around downtown New Orleans in a bunny suit. In 2009, she created the children's Fringe Fest theatre production "By My Bunny," while her alter-ego "Rock n'Roll Bunny" has danced on stage accompanying piano-punk genius Ratty Scurvics.
"I started with Ratty, and I just never stopped!" says Tomossetti of her clowning origins. "Now, I almost always clown with my partner Luke Brechtelsbauer, and we do a lot of slapstick, physical based clowning. I feel the world should be shaken up and made fun of. So everything I do is about connecting to people in a way that reminds them we are actually alive."
Tomassetti's new, original indy-theatre spectacle, "Dreadful Dwarfs Delicious Day," also started out in her mind as a children's production, but quickly veered off into more adult territory. "Me and a friend were going to do Snow White in the park. But I decided I just wanted it to be the dwarves," Tomassetti laughs. "Snow White's kinda dumb. Her story is all about how her life revolves around a man. Most of those stories are based on socializing the female, keeping her subservient because they don't want her thinking past the mall."
And so, in Tomassetti's world, Snow White became Scarlet Stilence. "Scarlett is a character with a psychotic multiple personality," Tomassetti explains. "She's also pestilence; she demolishes everything and brings disease—a psychotic monster, really, but funny. She sings and dances."
The show opens this Thursday night at 8pm and runs through this weekend and next weekend (January 15th-18th & 22nd-25th) "This new play is a sensory theatrical experience; you don't just sit there; it's a ride, a really fun ride. It's absurdist, no restraints on reality, time or place," says Tomassetti, who will even go so far as to serve food during one part of the show in order to stimulate all of the audience's senses. "There is a story that occurs, but it's going to be different for every person who views it. It is not driven by a verbal script, but a physical script, and everybody sits in the middle of the warehouse and all the action goes on around you."
Along with evil versions of the seven dwarves, "Dreadful Drawfs Delicious Day" features a business man (played by Reese Johanson of Artist Inc.), Scarlet (played on alternating nights by Nicole Gruter and Miss Michael), a four-piece band (Matt Bell and his Orchestra), aerialists who dangle above the audience, and original puppets created for the show by Libby Hendon. "The puppets play the plants and animals of the forest," says Tomassetti. "They make the forest not just come alive, but add some fantasy and fun to a scary place."
Though Tomassetti says the production is, in essence, about "consumerism and greed, and the madness that human beings produce," she stresses that it is, above all, fun.
"We do this all for love, and to share fun and excitement and magic," Tomasetti beams. "And hopefully everyone will take away what they will, and never forget it. Like, ever."
"Dreadful Dwarfs Delicious Day" takes place at a private residence at 1315 Touro. The show runs from January 15th-18th, and January 22nd-25th. Tickets will be sold on a sliding scale of between $10 and $15, all of which goes to the actors and the live band. The play starts at 8pm, but those who show up at 7:30 will be treated to a pre-show by Mystic Pony Aerial Troupe full of "extra surprises and goodies." For more info, check out the show's Facebook page.