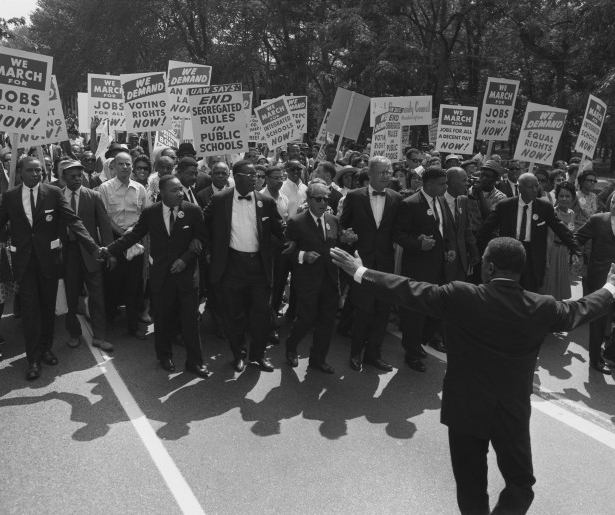 SHARE
Martin Luther King Day is an important date in the New Orleans calendar. The holiday , which is marked on Jan 19, encompasses both solemnity and celebration in a city that played an important role in the Civil Rights movement, where the mission and message of Dr. King resonates in the present.
In coming days, a number of events are planned around the city to celebrate the life and legacy of Dr. King. On Jan 15, in Central City, the R.E.A.L March will proceed from A. L. Davis Park to the MLK Monument at MLK Blvd and South Claiborne Ave; at 11am, a wreath laying ceremony will commence. Later that same day, the United Teachers of New Orleans Choral Concert kicks off at 6pm at the Franklin Avenue Baptist Church (2515 Franklin Ave).
The Jazz & Heritage Foundation and WWOZ will present its 4th annual Jazz Journey Tribute to Martin Luther King at 6pm on Jan 16, at Dillard University's Lawless Memorial Chapel (2601 Gentilly Blvd). The concert will be headlined by South African R&B and gospel artist Jonathan Butler (who plays at 9pm), along with The Nu Legends Nicholas Payton, Herlin Riley, Max Moran, David Torkanowsky, Donald Harrison and the Dillard University choir.
Central City will remain a focal point for events throughout the weekend; standout offerings include the MLK Jr. Commemorative Art Exhibit Nonviolence: The Only Road to Freedom, which will exhibit at Ashe Cultural Arts Center on Jan 17 at 5pm. In the Treme, the MLK Memorial Service will be held at Holy Faith Temple Baptist Church (1325 Gov Nicholls St) at 3pm on Jan 18.
Finally, the city's official MLK Memorial March will be held on
Jan 19, 2015 at 9:45am; the parade begins at City Hall (1300 Perdido) and ends at the MLK Monument on MLK Blvd And South Claiborne Ave following this route. For more events related to MLK Day in New Orleans, check out the city's website.
Image of the March on Washington courtesy of Wikipedia.