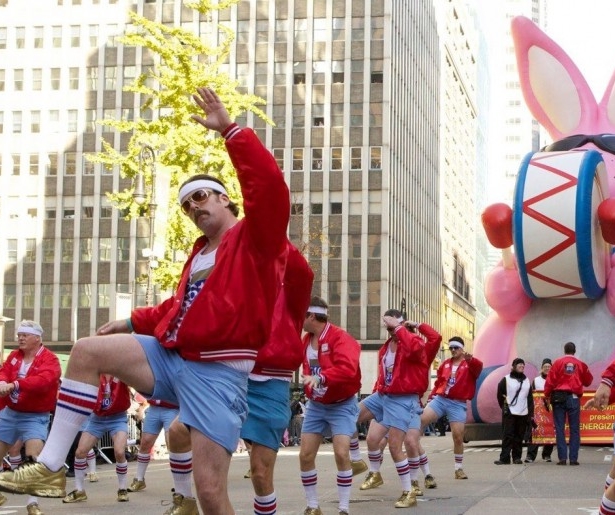 Mardi Gras wouldn't be the same without dancing. It gives people a break from the onslaught of throws from the floats, and indulges New Orleanians in their love of music. In recent years, a number of local dance troupes have formed and become as popular as the parades themselves. While it's impossible to get a response from all the troupes in a single article, dancers from four of the city's dance organizations shared their feelings about the experience of marching at Mardi Gras.
How in shape do you have to be?
Meg Doosey (Sirens since 2012): A person has to be in decent shape…We dance almost 100% of the route. It takes a lot of endurance. To prepare for Mardi Gras, we begin twice weekly rehearsals in early September (we must attend 50% of the rehearsals to march). Our rehearsals are one and a half hours long and involve a dance warm-up, choreography/practice, and a cool down.
Kathy Griffin (Gris Gris Strut since 2012): It helps to be active/fit, but it isn't a requirement… by the time Mardi Gras is over, you end up being pretty fit. We rehearse 1-5 hours a week (more when it gets closer to the big week) and have practice parades to help with the endurance.

What's the hardest part?
David Jackson (610 Stompers since 2010): Missing out on just being a regular citizen come Mardi Gras. While performing in parades is an amazing experience, you also miss out on spending times with friends and family along the parade route…No surprise, finding a cab to take you back Uptown after performing is always a challenge. I had to walk back Uptown one year after performing and that was not fun. It was the one time in my life where I wouldn't have minded getting ripped off by a cab driver to get back Uptown.
Peryn St. Raymond (Gris Gris Strut since 2012): Making sure you don't slip on beads. People usually assume dancers are really graceful but, in reality, we are all pretty clumsy…At this point, I have mastered the art of falling gracefully.
Mike Spara (610 Stompers since 2011): When it ends. Or slipping on kerosene (from the flambeaux carriers). I slipped on some kerosene pretty hard, as did some of the other guys. Still managed to finish, but whew.

Alison Heston (Roux La La since 2011): The hardest part isn't the marching; it's all of the prep that goes into putting on a good show in the parades: costume, choreography, support vehicle, logistics, etc.
What's your favorite part?
St. Raymond: My favorite part is when we get to the underpass at Calliope and St. Charles Ave. The band sounds so amazingly loud and I feel like my heart is going to beat out of my chest. It is magical.
Jackson: Easily the interaction with the crowds. When you ride on a float, you are above the crowd and kind of oblivious as to what is going on around you. Being on the street level, you get a whole new appreciation of Mardi Gras. We are fortunate to have fans of all walks of life as well as ages. Being able to interact with them and give people high fives is pretty awesome and something I don't take for granted. My other favorite part is running into old friends that I haven't seen since the prior Mardi Gras, if not longer. People always come out the woodwork during Carnival season and it's great to see them and perform for them.
What's the worst weather for marching?
Jackson: The heat without a doubt. Our jackets are made with so many synthetic materials, I swear you could send someone to either of the poles wearing one and they would be warm.
Heston: Hot weather is the worst…Wigs, hats, sequins, and tights aren't made of the most breathable materials. However, rain does increase the number of beads laying in the street, which can be treacherous to navigate while spinning or leaping.
Spara: Wet-cold…the walk home (from Lundi Gras 2014) was mumblecurse-inducing in short shorts.

Thoth has the longest route in Carnival. How much more challenging does that extra distance make the march?
Griffin: It is always a great experience. The people are the best for this one – because it is so early and on Sunday – you get whole families and mostly sober parties. They interact with you, they cheer for you, they give that great energy that keeps you going the whole way.
Heston: Even though the route is longer for Thoth, it usually moves at a good pace. So, the total time of the parade isn't that different from a shorter route that has a lot of delays. We don't stop dancing just because the floats have stopped moving; so total parade time can be more of a factor than distance.
How do you feel when you finally finish the route?
Doosey: If there are a lot of stops and breakdowns, I'm typically relieved because the stopping and standing are what makes the march exhausting. If it's a smooth march, I'm usually ready to keep going!
St. Raymond: I feel sweet, sweet, relief. It's so much fun but it takes a lot out of you.
Jackson: Exhausted, hungry, thirsty…You also feel very rewarded. It still blows my mind how much we are cheered for during parades. That never gets old and we definitely appreciate the love.
What body part is sorest afterwards?
Heston: Feet if the costume shoes are crazy; lower back if the shoes are comfortable.
Spara: Depending on the routine for the year, it's either my quads or my hamstrings. Ever had a charley horse while doing wedding dances during a 10k?
Doosey: My feet are the sorest, by far, but my arms get sore because we use them so much to get the desired effect across while zooming by the crowds.
Jackson: My knees and calves…I take 800mg of ibuprofen before I leave the house and the same when I get home. I also make sure to use ice packs on my knees and any other area that took a beating on the parade route…The streets of New Orleans are not the most friendly for dancing for 3 hours.
St. Raymond: MY FEET!!! I have to soak them in Epsom salt as soon as I get home.
Griffin: Oh God, my feet. Always my feet, then hamstrings…Every night, I soak in epsom salt and massage bio freeze into my muscles. Last year I lost two toenails, but my shoes were too tight a whole parade, so that is to be expected.
Is there a common misconception you hear about marching from those who've never done it?
Griffin: Mostly just that they think they can't…There is a surefire way to figure out if you can do it…. show up. You don't realize what you are capable of until you just show up and try it. Then you get that excitement and energy from the crowd, and the band starts up and the music and the choreo just moves you. You don't have to think about it, you don't wonder if you have the energy to get through it, because you have it, you are doing it.

Photo courtesy of 610 Stompers and Welliver Productions.