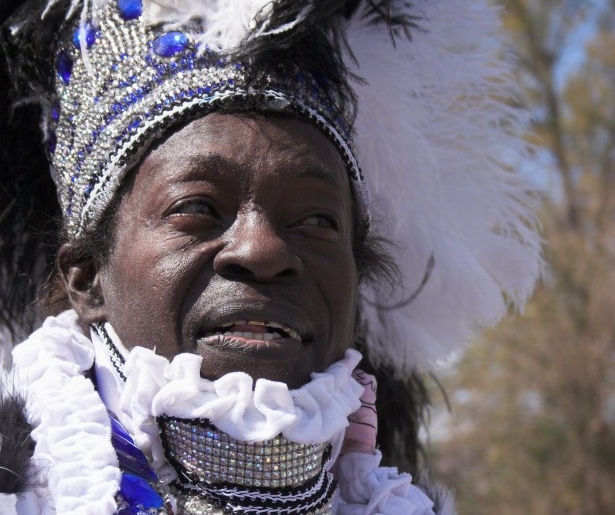 SHARE
There are years when the subject of the official New Orleans Jazz and Heritage Festival poster is an open question, and there are years when there is no doubt who will assume that spot. 2015 is an instance of the latter, as the city mourns Big Chief Theodore Emile "Bo" Dollis, who died on Jan 2015.
As Big Chief of the Wild Magnolias, Dollis brought Mardi Gras Indian music, and by extension, the culture of the New Orleans backstreet, to the wider world. Local painter Randy Frechette, better known as Frenchy, has been commissioned to capture this icon of the Crescent City.
So, how many Jazz Fest posters have you done?
This is the first.
And how does that feel?
Man, it's something. A lot of emotions.
What kind of creative control were you given?
I was given full direction. I can tell you, it was all a little bittersweet, what with Bo passing. I listened to Bo every day I've been working on this. I was doing 12 to 14 hours days through a whole week: just me, a studio, and Bo.

We went through four different images before we got to the final one, but getting there only came after a ton of ground work and research.
How involved would you say you've been with the Mardi Gras Indians in the past?
I'm very involved with Mardi Gras Indians. I've been brought to Indian practices plenty of times. The Indians and their chants…it's one of those things… Look, as soon as I moved to New Orleans, back in 1998, a number of things happened that made me realize I am never leaving. Watching and hearing the Indians was one of them.
New Orleans has that affect on people.
I was 26 when I came here. I'm 44 now. I became a man in New Orleans for sure. As a young artist in this town, being into the music, I was able to paint the Wild Magnolias a bunch of times. And they're just soul.
How much of this poster is about capturing Bo Dollis, and how much is it creating a poster for a big music and cultural festival?
I mean, the way I look at it, this poster is about New Orleans. About all the adventures and shenanigans and people who create it. And that also includes the New Orleans Jazz and Heritage Festival. Because for every Jazz Fest, there's Mardi Gras Indians. They're a really integral part of our city. and this will hopefully bring a light on the Indian nation.
You're known for standing next to the stage at a live show, painting while the music is happening. What was the painting process for this project like?
I just did a lot of praying, listened to Bo's music, burned incense. Honestly, I've been keeping a low profile. It's just been heavy, you know. I spent all day yesterday crying, trying to get work done.
So this is a pretty personal project for you? I've been painting Indians in New Orleans for awhile, and have a personal relationships with a bunch of them.
How does that influence your approach to depicting them?
I guess I feel as if I've been granted permission to tackle this subject matter, and I take it very seriously. If you're gonna recapture some of their energy, you have to know that subject matter, and you have to approach it with the utmost respect.
More information on Frency's local galleries can be found here and here. Above image courtesy of Wiki Commons.