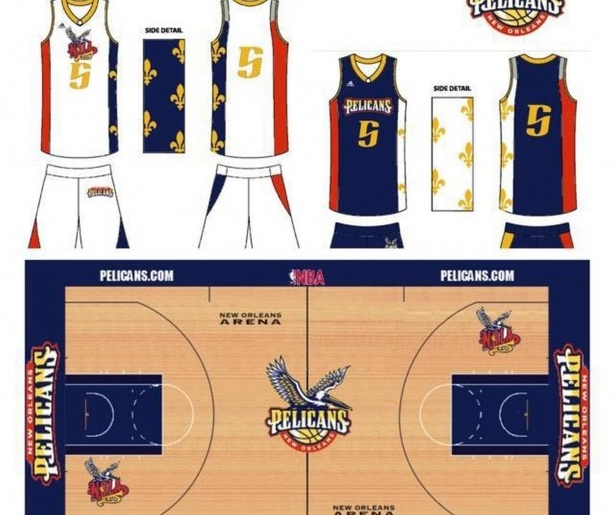 SHARE
Was getting a coffee yesterday at Le Croissant d'Or when a teenager walked by in a New Orleans Pelicans baseball cap. Fitted, with a crisp, flat bill, and still had the size sticker on it. I hate that trend, but in this case, I was glad for it, because it immediately clued me in that this wasn't a knockoff.
I stopped the kid, asked, "Is that a genuine Pelicans cap? NBA store?"
He nodded, and I finished my sandwich (incidentally, Croissant d'Or is always a fantastic option for coffee and a baked goods in the Quarter. Want the romance of Café du Monde without being surrounded by a crowd of 100 people while waitresses yell numbers at the top of their lungs? Come here. No beignets, but the pastries are second to none).
So I went home, got online, and lo and behold: you can purchase official Pelicans gear online. Nice. And then I explored the Pelicans actual website, which was a pretty fascinating exercise in seeing the NBA rebrand a team and a city in front of our eyes, in the click and update web-real time of the internet (i.e the team has its own "youtube page": http://www.youtube.com/NBAhornets, but the domain still has 'Hornets' in the URL, and for now the dancers are still the Honeybees, which lends itself to the question: what's the best name for a dance squad that performs for a team named after waterfowl?).
It's cool to see a new face for the city being built before our eyes, as certain elements of the team's identity are tested, retracted, repackaged and brought forward again for public consumption. I'm thinking specifically of the competition to pick a logo for the team, which was a clearly visible debate over the team's image, but in a way every level of the franchise is experiencing a similar phase of construction and reconstruction.
I reckon that in a year or so, when all the NBA polish has been applied to the Pelicans brand, I'll look back on these early days of the team's development with a bit of nostalgia. Which kind of makes up for that sixth round draft pick.
Kind of.
Image of early jersey concepts courtesy of the New Orleans Pelicans.