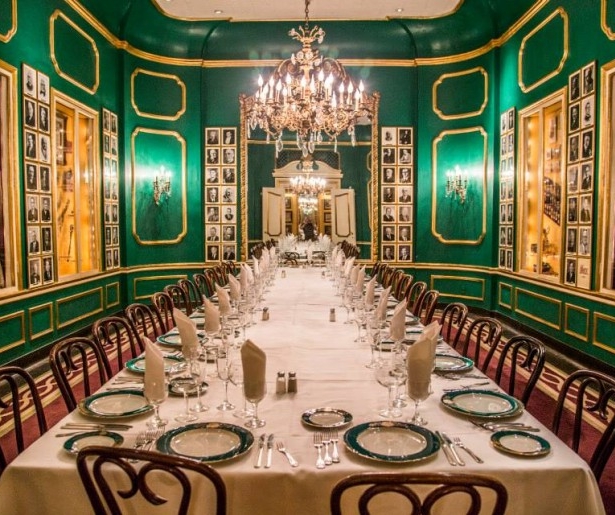 SHARE
One time, I wandered past 713 St Louis St and the iconic facade of Antoine's and got a little angry.
A tourist couple had just emerged from the restaurant's dimly lit interior. They squinted in the French Quarter sunlight and muttered, "Well, that was old school." The tone of their voice implied they weren't paying the restaurant a compliment.
They were already about halfway down the street when I sputtered, ineffectually to myself, "It's Antoine's."
To expand on that thought process: at Antoine's, old school is the point. The restaurant celebrates 175 years of dining this year, making it the oldest dining establishment in New Orleans, and the oldest family run restaurant in the country. In the Tree of Life of New Orleans cuisine, it is the roots: the originator of much of the Louisiana Creole cuisine that is indelibly bound up in the identity of New Orleans.
With all this in mind, one should never dismiss this venerable location with a description like 'old school.' That's like knocking the ocean for being wet. Besides, New Orleans – our city of preserved architecture and roots music and wide boulevards and yes, fading walls and peeling paint and lagging infrastructure, often embodies the concept of old school. If you don't like old school, this may not be the right town for you.
I'm not trying to be dismissive of new things, by the way. But let's recognize that there is beauty in tradition and history, and that few restaurants bear those qualities like Antoine's.
Founded in 1840 by Antoine Alciatore, it was Antoine's son Jules who invented signature dishes that have gone on to become cornerstones of New Orleans cuisine, including Eggs Sardou and Oysters Rockefeller.
The latter stands out for me in particular as a Platonic ideal of the Louisiana Creole approach to food. Namely: take a rich thing (oysters), and make it mind-droppingly richer (via melted butter sauce).
If tradition and indulgence are defining qualities of New Orleans, they are present in equal measure in Antoine's. This was a fine dining spot back when eating out was an activity only the uppermost of classes engaged in. You can easily pick up on this historical reality amidst the restaurant's 14 dining rooms, themed for the Mardi Gras krewes that provided the aristocracy that largely made up Antoine's clientele.
In the 21st century high end cuisine has become a far more egalitarian prospect, and while Antoine's is at the top of the eating budget scale, it's multiple dining rooms likely entertain as many tourists as old New Orleans elites. But the place is still owned and operated by fifth generation relatives of Antonie Alciatore. Wait staff positions are passed down between family members. The bones of this restaurant run deep as the river.
Give yourself a chance to sample this bastion of the old school during its 175th year in business. We recommend the five course classic menu ($68-75), which traverses some of the scope of fine Creole cuisine. Bob app!
Image courtesy of Antoine's.