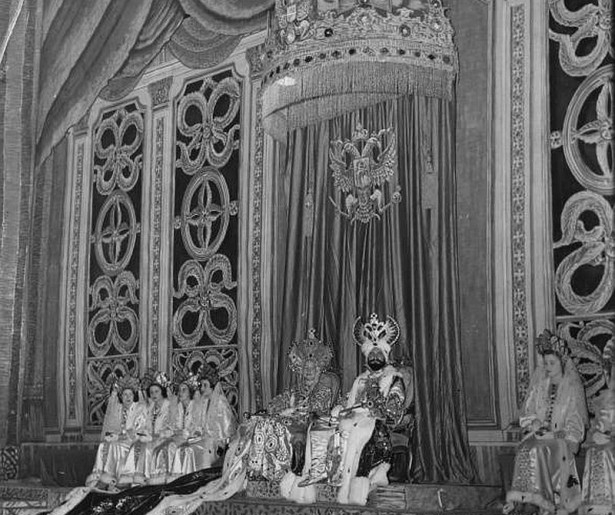 SHARE
The costumes of Carnival season are a physical manifestation of the New Orleanian love of masking. And by masking, I don't just mean impressive costumes (although impressive costumes are certainly part of the equation). Masking goes beyond dressing pretty into another realm: flights of fancy, imagination, mystery, seduction, power and pageantry.
In times past, the costumes of the old line krewes – Rex, Comus, Momus and Proteus – were the subject of intense scrutiny. These outfits, and their accouterments, which adorned the elite of the city's fabled krewes, were the closest thing New Orleans had to royal pageantry. Indeed, many costumes, scepters and crowns are enshrined in the krewe-themed dining rooms of grand dame restaurant Antoine's.
With that said, for the past few decades, via a general fascination with New Orleans' Afro-Caribbean influenced backstreet culture and popular promotion via shows like Treme, public attention shifted to the extravagant feather and bead suits of the Mardi Gras Indians.
This is well and good – Indian suits are cultural touchstones and painstakingly handmade works of art. But I think there's a beauty to the old krewe costumes, staves, banners and bunting. Just as England has her crown jewels and Japan her Imperial regalia, New Orleans has the faded 'coronation' outfits of kings and queens of balls gone past. We're not a nation that particularly favors the idea of monarchy, but we can all appreciate a little pomp and circumstance.
Some of our city's textile expressions of that pomp will be on rare display this week. Hidden Treasures of the Louisiana State Museum is on display at the LSM Collections Facility at 1000 Chartres St on Jan 27 and Jan 29.
'Curator of Carnival' (that's an excellent title, by the way) Wayne Phillips will show off the Louisiana State Museum's massive Carnival Collection, which includes the aforementioned costumes and other artifacts and object d'art associated with the Carnival season.
The tour will take in areas of the Louisiana State Museum that are usually off limits to the public – reason enough to book a ticket, which are $25 for non-members of the Friends of the Cabildo. The tours depart at 6pm and 7pm on the 27th and 29th; click here for more information, and happy Carnival season.
Image of a Krewe royal court, circa 1939, courtesy of Wikipedia.