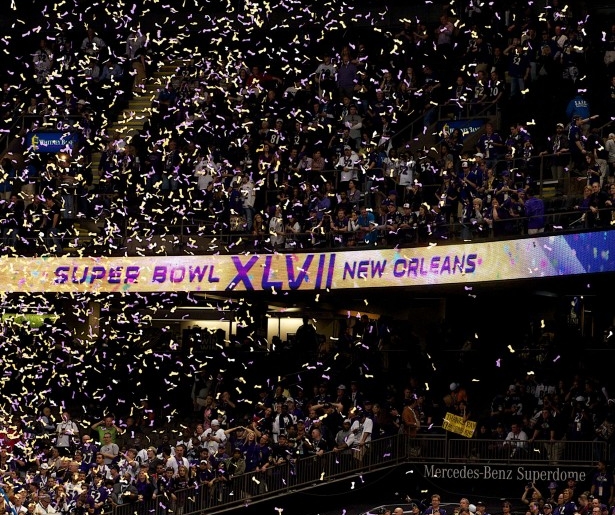 Author Brian Boyles has traversed the CBD daily for the last eight years as an employee of Louisiana Endowment for the Humanities. He's also occupied the DJ booth at Handsome Willy's, the CBD's neighborhood bar without a neighborhood, spinning tunes at almost every Saints football game since the 2009 Championship Season.
Both of these occupations, combined with Boyles's natural curiosity as a journalist and historian, helped position him to become an expert in the issues that accompanied the last New Orleans Super Bowl. In his new book, New Orleans Boom and Blackout, Boyles combs over the 100 days leading up to the Super Bowl XLVII, and finds a concentrated amount of important history within.
Like Mayor Landrieu's administration did at the time, Boyles frames the Super Bowl as the lens through which America finally got to see the "new New Orleans."
"If you live here, you're accustomed to the question… How is it down here, anyway? Boyles writes in the intro. "The real answer: When and for whom?"
The book goes on, "Like in any city, New Orleans is better and worse than it was ten, one hundred or one thousand years ago, depending on whose porch you sit and at what time. The point, it seems to me, is to sit on as many porches as possible."
"Right now the book seems like journalism," says Boyles, who earned a Bachelor's in History from Tulane. "I was trying to capture something for posterity — and that's when it becomes history." Boyles' aforementioned dispassionate eye also gives the book an historical voice.
"Every day now, something comes up that makes us want to argue about the direction the city's going, and about authenticity — I wanted to step back from all that, remove myself from aspects of it that make me sad or make me happy, and figure out how it was all important, and how did it fit into the flow of New Orleans history."
Some of the stories in Boom and Blackout could seem rote to those who paid attention to the city's recent history. But Boyles carefully balances the essentials with colorful street-level knowledge, gained from folks like the To Be Continue Brass band, with whom Boyles checks in every few chapters.
"Plus, DJing gave me a really good window into the people following the Saints, and the politics around it," says Boyles. "The DJ booth at Handsome Willy's is ground level, so you interact with people the whole time, all the folks from the service industry."
DJing those games, Boyles also learned a lot about his fellow Southerners' musical tastes. "I went into that gig thinking I'd be playing classic rock and things. Boyles laughs. "I knew Cash Money of course, but I didn't know Tim Smooth, or 'The Bunny Hop.' There was a cool period where I was learning through getting a lot of requests. But what struck me immediately is that everyone knew the words to 'Nolia Clap.'"
Boyles will host a free, fun book release party on Tuesday, January 27, at Handsome Willy's, featuring DK Maxmillion and DJRQAway.
New Orleans Boom and Blackout has been nominated for One Book One New Orleans. Vote here.
Image courtesy of Wikipedia.