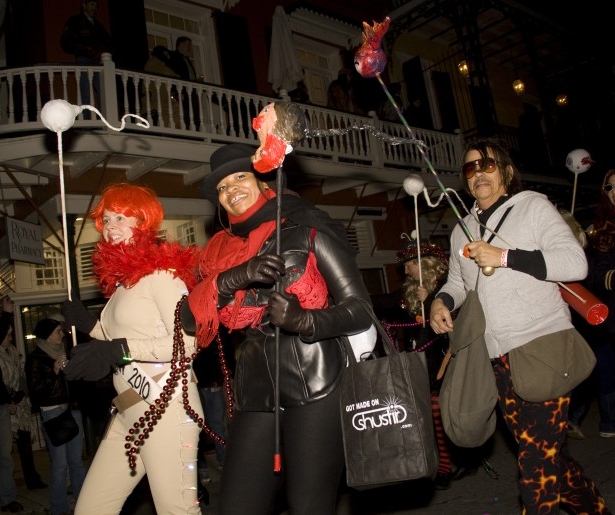 SHARE
This Saturday, January 31st, marks the beginning of the 2015 parade season with the return of perhaps the most idiosyncratic parade of Mardi Gras: Krewe du Vieux.
Known for its playful, raunchy, and politically incorrect themes, the parade embarks upon a new route this year, crossing Canal St. for the first time.
It begins at 6:30pm, kicking off from its normal launch station on Franklin Avenue in the Marigny, but instead of looping back to the neighborhood like it has in years past, the parade snakes through the French Quarter, mostly along Decatur and Royal, before crossing Canal into the CBD, eventually landing at the Civic Theatre for the Krewe du Vieux Ball. This year's Ball includes performances by Kirk Joseph and the Change Makers, as well as James "12" Andrew.
Following Krewe du Vieux will be Krewe Delusion, which basically trucks in similar satirical/raunchy adult themes. Unlike KDV, Krewe Delusion is sticking to a loop route; they roll from the Den of Delusion on the corner of St. Ferdinand Street & Architect Alley around 7:15pm, and end at the same spot where the "Bedlam Ball" kicks off at 9pm.
Krewe du Vieux has built its name as a smaller parade with no tractor pulled floats or music blaring from giant speakers, opting instead for smaller floats and live music, mostly from excellent local marching bands. Because of its smaller scale, the parade is the only one still allowed to march directly through the French Quarter, making it one of the most unique spectacles of Carnival season.
This year's theme, appropriately, is "Begs for Change," a play on both politics and the new route. Rest assured, Krewe du Vieux, which actually consists of 15 allied sub-krewes, always contains more than a few risque floats with vaguely erotic overtones.
Krewe du Vieux is a relatively short parade, especially when compared to the big krewes rolling in coming weeks. In past years, this hasn't been an issue; because of the looping parade route, onlookers were often able to experience certain sections more than once.
This year you'll have to pick your viewing spot wisely in order to see all the floats in their bawdy glory. Here's a quick run down of a few bars from which to view the parade. Some are staples of the old route, some are new.
Mimi's in the Marigny
A classic, central spot to watch Krewe du Vieux. Great place to start your night because it's located right at the beginning of the parade route, but get there early because it will be crowded. There's also plenty of other bars around if Mimi's becomes a madhouse and you can't get a drink.
R Bar
A little farther down Royal Street from Mimi's, R Bar will feel like a gigantic block party for pretty much the whole afternoon Saturday.
Molly's at the Market
An affordable and lively gathering spot in the French Quarter.
Chart Room
Divey cash-only spot in the FQ that's good for lounging or grabbing drinks on the run.
Capdeville
CBD gastropub along a new section of the parade route. Plenty of food and creative cocktails to be had while waiting for the parade to make its way across Canal and into the CBD for the first time.
Krewe du Vieux is at 6:30pm on Saturday, January 31st.
Above image: Krewe du Vieux, circa 2010, courtesy of Wikimedia.